After being challenged by "The Young and the Restless" co-star Melissa Claire Egan (Chelsea Newman), Greg Rikaart (Kevin Fisher) has exclusively shared with Soap Opera Network video of himself taking part in the ALS Ice Bucket Challenge, which included a surprise appearance by best friend frenemy and neighbor, Rebecca Budig (ex-Greenlee Smythe, "All My Children").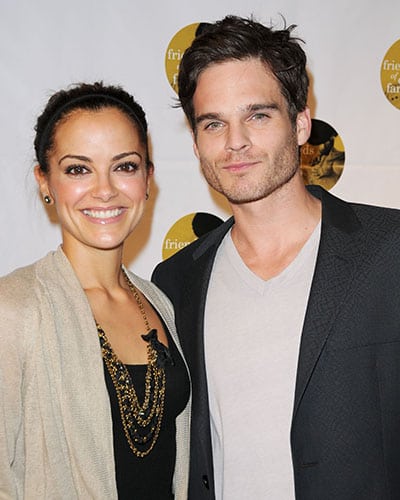 In response to his being challenged, Rikaart says in the video, "I'm gonna say no, because I don't have a sense of humor and even though there's a bunch of bad stuff going on in the world right now, and some people might get a laugh out of seeing me get ice water poured over my head, I'm not gonna do it. We're in a drought, even though I'm seated on some grass, it's still not the best use of water and the only person that I can think of that I would nominate is Rebecca Budig, and she's pregnant… so, she can't do it. God, I hate her." Of course, that didn't stop Budig from showing up and dousing him herself. "Who do you nominate?" laughingly asked Budig.
So despite not wanting to take part in the challenge initially, Rikaart did and he donated as well "because it's great to raise awareness and money for research for this awful disease."
READ ALSO: ALS Ice Bucket Challenge: Melissa Claire Egan and Chrishell Stause Take Part; Douse 'Y&R's' Newest Star Justin Hartley
As for Budig, as Rikaart noted in the video, she was unable to take part in the challenge herself because she's pregnant. Does that mean she plans to take part after she gives birth? "Sure. Maybe it will soothe my sore nipples, but donating money to this cause is more important to me." As for who she'd like to nominate next, Budig has challenged former "AMC" co-stars Cameron Mathison (ex-Ryan Lavery) and Alicia Minshew (ex-Kendall Hart). "They may have done it already. I can't keep up! But to see Alicia and her hair getting wet…"
As noted, Rikaart and Budig are best friends frenemies and neighbors, but they also love to have some fun at each other's expense from time to time, so what's it like for them living next to each other? "Horrible. I have to keep things triple locked. He's a thief," joking stated Budig of Rikaart, who she says she's been living next for "too long. It's time to move on." As for Rikaart, he says of living next to Budig, "It's like having a constant, annoying rash. And just when you think it's cleared up? It moves back to Los Angeles from Connecticut."
To support the ALS Association in their efforts to fight Lou Gehrig's Disease, click here.