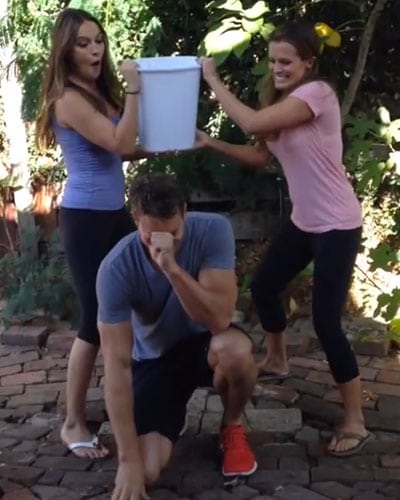 It's the craze that has swept the nation, social media and Hollywood over the last month as the world seeks to help fight Amyotrophic Lateral Sclerosis (ALS), often referred to as "Lou Gehrig's Disease," which is a progressive neurodegenerative disease that affects nerve cells in the brain and the spinal cord according to the ALS Association website. Facebook's Mark Zuckerberg, Microsoft's Bill Gates and Harpo's Oprah Winfrey have already done it and so have a cruise ship load of daytime soap stars past and present, which now includes real-life best friends Melissa Claire Egan (Chelsea, "The Young and the Restless") and Chrishell Stause (Jordan, "Days of our Lives"), who were challenged by Egan's mother, Mary. They weren't alone! Also taking part was "Y&R's" newest star, and Stause's real-life boyfriend, Justin Hartley (Adam Newman).
READ ALSO: BREAKING NEWS: Justin Hartley is 'Y&R's' New Adam Newman
As noted in the video, Stause challenged Hartley, while Egan challenged "Y&R" co-star Greg Rikaart (Kevin).
To support the ALS Association in their efforts to fight Lou Gehrig's Disease, click here.