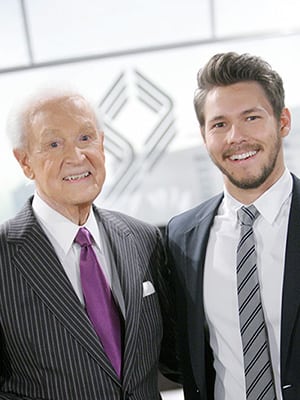 Per TV Guide's Michael Logan, legendary host of "The Price is Right," Bob Barker, is returning to CBS' "The Bold and the Beautiful" on Thursday, August 28 in scenes that'll spoof his classic fight scene from the 1996 Adam Sandler film, "Happy Gilmore."
Barker last appeared on the soap playing a version of himself in early May, when he met Liam Spencer (Scott Clifton) to discuss their mutual interest in providing care for animals in dire need of love and support. When he returns to the soap this time he's again shown chatting with Liam only to find Wyatt (Darin Brooks) interrupt their conversation with his comments about "stupid animal lovers," words which Barker doesn't take too kindly. "Stupid animal lovers?" he says, adding, "Animal lovers are not stupid, and I don't like remarks like that." Halfheartedly apologizing for his choice in words, Wyatt corrects himself by replacing his "stupid animal lovers" comment with "animal wacko," referencing Barker. He's later told to be careful by Barker as Liam tells him to stop being a jackass. "I think a pet could be your best friend. Make you happy. You look like you could use that. Just remember help control the pet population… have your pet spayed or neutered," comments Barker to Wyatt, who is literally stunned by the words he is hearing. He responds to Barker by reiterating his use of the word wacko before Barker lays the smackdown on his candy you know what.
When Logan asked if his return appearance to "B&B" constitues him being a formal soap star, Barker responded with, " You want to call me a soap star? Hey, at my age, I'll take it! I'm grateful for whatever comes my way, especially when I can get out my message about the importance of spaying and neutering animals. CBS and [B&B exec producer] Brad Bell have been incredible about using the soap to increase awareness. And if I get a chance to punch out a guy who thinks animal lovers are stupid wackos, even better!"
READ ALSO: DETAILS: Scott Clifton's Animal Kingdom
In the "Happy Gilmore" scene, Barker, who also played a version of himself in the film, was seen getting into a punching match with Gilmore following a disagreement in Gilmore's golfing technique. You can watch the clip in its entirety below:
For more on Barker's return appearance to "B&B," click here. Meanwhile, tune into "B&B" on Thursday, August 28 to see 90-year-old Barker in action.