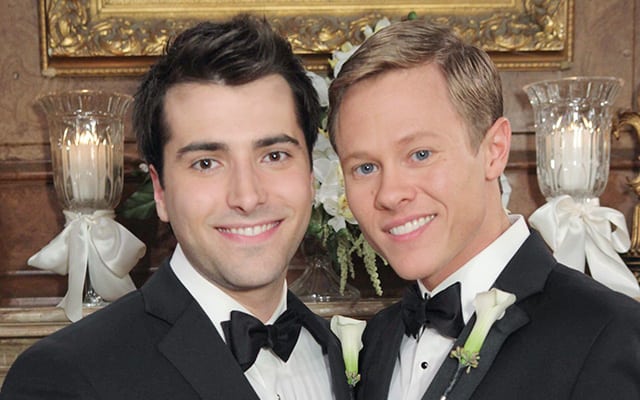 The ground-breaking love story between "Days of our Lives'" Sonny (Freddie Smith) and Will (Guy Wilson) has garnered lots of attention for the NBC sudser, and the latest exciting news regarding the popular storyline is that it has landed the show a coveted spot within The Hollywood Museum!
Costumes worn during Sonny and Will's memorable wedding — the first ever male gay wedding on soap operas — are being featured as part of an exclusive LGBT exhibit at the museum called "Reel to Real: Portrayals and Perceptions of Gays in Hollywood." The exhibit, which also features Michael Douglas' suit from "Behind the Candelabra," Nathan Lane's costume from "The Birdcage," and outfits worn by Sonny and Cher, will run through Sunday, September 28.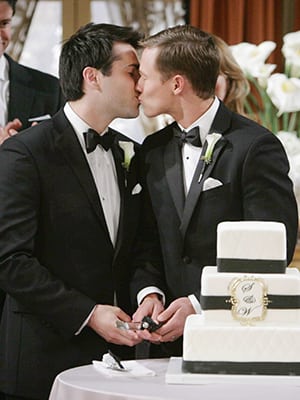 "To have had the opportunity to contribute to the progression of LGBT rights and marriage equality, and for my work as a performer to have hopefully provided a voice to those who might not have otherwise had one, is an unparalleled privilege," Wilson told Soap Opera Network of being featured at the museum. "Being included in an exhibit that illuminates and lauds such important social progress is more than I could've dreamed of! I am so very grateful to the Hollywood Museum for recognizing the efforts of all LGBT leaders and allies, and to 'Days of our Lives' for being so fearless in its portrayal of what a loving relationship can be."
For more information on the exhibit, visit The Hollywood Museum's official website.