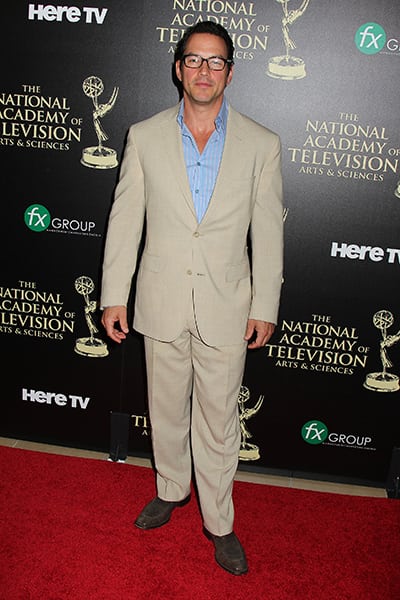 The red carpet for the 41st Annual Daytime Emmy Awards was filled with the sexy men of soap operas, including "General Hospital's" Tyler Christopher (Nikolas Cassadine), who wore a custom made creation for the night's event.
Soap Opera Network: You look dashing.
Thank you. I'm not in black like I'm supposed to be, but this is what I had.
Well, you're not supposed to be in black. You're a star, a leading guy, you can be fashion forward!
Thank you!
Who's the designer?
It's not a designer, it was made for me.
Oh wow, fancy!
I guess, yeah. Sy Devore.
Can you take me through your day leading up to this moment?
I woke up, I went to the beach.
Do you do that normally?
I do, I live by the beach, so I usually go there. And then at 2:00, I threw this on and came here.
It' so easy for guys to get ready! Can you give a storyline tease for the summer?
All I know is that I'm chasing my son around Port Charles everywhere. The kid is a riot, but he's great. And that's what I'm doing for the rest of the summer.
Really?
Yeah. Yeah.
Ok, that's cool that they're giving that to you. It's a little different from the love story that was happening.
Well that's always going to be there, but outside of trying to keep on eye on him, I'm not sure what going to happen next.