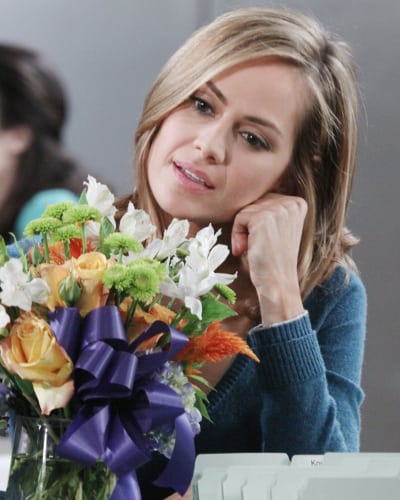 On the heels of the news that "Guiding Light" alum Grant Aleksander (ex-Phillip Spaulding) and "All My Children" alum Terri Ivens (Simone Torres) have joined the cast of the online drama series "Tainted Dreams" comes news that "General Hospital" alum Natalia Livingston (ex-Emily Bowen-Quartermaine; ex-Taylor Walker, "Days of our Lives") has also joined the Internet sudser as Liza Park.
Says show creator (and current "AMC" supervising producer) Sonia Blangiardo of the character: "[She's] an actress who plays Ashley Black in 'Tainted Dreams'' soap within a soap, 'Painted Dreams.' Liza is a woman in transition, making all the wrong choices in her personal life until she finally learns to listen to her heart and then finds strength she never knew she had."
Other stars who have signed up for the drama, which begins taping in NYC on Monday, July 29, include Alicia Minshew (ex-Kendall Haart-Slater, "AMC"), Kelley Menighan Hensley (ex-Emily Sewart, "As The World Turns"), Walt Willey (ex-Jackson Montgomery, "AMC"), Marnie Schulenburg (ex-Alison Stewart, "ATWT"), Michael Lowry (ex-Jake Martin, "AMC"), Austin Peck (ex-Brad Snyder, "ATWT;" ex-Rick Powers, "One Life to Live"), Colleen Zenk (ex-Barbara Ryan, "ATWT"), Dina Manzo ("Dina's Party;" "Real Housewives of New Jersey"), Anthony Wilkinson ("My Big Gay Italian Wedding;" "My Big Gay Italian Funeral"), Lisa Marie Varon ("IMPACT WRESTLING") and "Mr. PEC-Tacular" Jessie Godderz ("IMPACT WRESTLING;" "Big Brother").