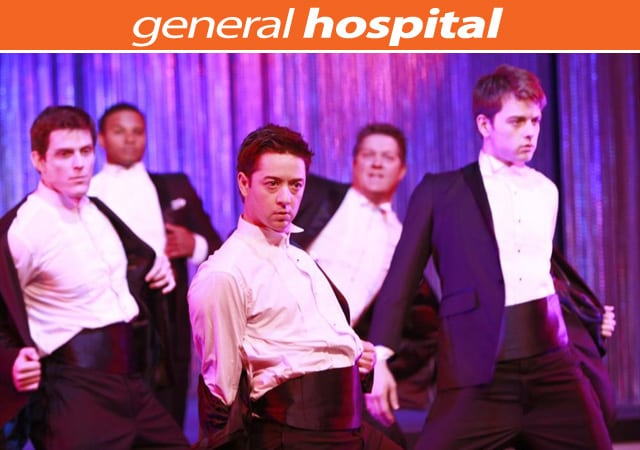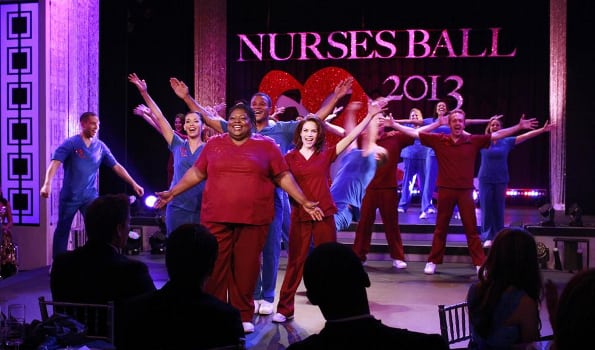 On Thursday, November 28 from 7:00 PM ET/PT through 1:00 AM ET/PT, SOAPnet will present a six hour "General Hospital" Nurses Ball marathon comprising all six episodes dedicated to the 50th anniversary of the ABC Daytime drama series, which aired earlier this year on both ABC and SOAPnet. The episodes include the return of Ingo Rademacher as Jasper "Jax" Jacks, Vanessa Marcil as Brenda Barrett, Richard Simmons as a caricature of himself, Rick Springfield's Noah Drake singing "Jessie's Girl," Magic Milo (Drew Cheetwood) and the gang, which includes "Dancing with the Stars'" Maksim Chmerkovskiy, doing a strip tease. Sabrina Santago (Teresa Castillo) and Patrick Drake (Jason Thompson) closed out the ball as they sang "You're Not Alone" to Emma Scorpio-Drake (Brooklyn Rae Silzer) as Port Charles' finest gathered around the stage.
The marathon schedule is as follows:
7:00 PM – General Hospital Episode #2013-12777 (Original Airdate 4/2/13) – Brenda and Jax return with the shocking news that they are engaged. Longtime foes Tracy and Monica are brought together by forces beyond this world. General Hospital celebrates the life and contributions of Dr. Steve Hardy.
8:00 PM – General Hospital Episode #2013-12778 (Original Airdate 4/3/13) – Preparation for the Nurses Ball continues, with a special guest brought in to choreograph the dance numbers. Carly calls out Brenda for using Jax to get Sonny back. Helena offers Luke and Laura a dangerous bargain for the return of Lulu.
9:00 PM – General Hospital Episode #2013-12779 (Original Airdate 4/4/13) – Final preparations are made for the Nurses Ball. While Patrick worries that he has missed his chance with Sabrina, she gets a fairy-tale makeover from Felix. Jax is clued in to Brenda's true feelings about Sonny when Carly reveals her whereabouts the previous night. Felicia is torn between Mac and Frisco. Dr. Noah Drake returns to Port Charles for the ball.
10:00 PM – General Hospital Episode #2013-12780 (Original Airdate 4/5/13) – The Nurses Ball begins with glamorous red carpet arrivals. Patrick admits his feelings for Sabrina. Carly and Brenda clash over Jax. The show's choreographer talks Sam into doing a dance number with him after his partner is injured. Frisco surprises Felicia with a very public proposal. Jack Wagner performs "All I Need" in this episode.
11:00 PM  – General Hospital Episode #2013-12781 (Original Airdate 4/8/13) – Felicia turns down Frisco's public proposal during the Nurses Ball and instead proposes marriage to Mac. Anna and Duke connect over a sensual tango. Lucy finds a maniacal Richard Simmons in the closet and, as usual, ends up on stage in her underwear. Britt interrupts Patrick's speech for a big announcement. Performances include Rick Springfield singing "Jessie's Girl", Magic Milo and his crew, as well as Sabrina and Emma's rendition of "Call Me Maybe".
12:00 AM – General Hospital Episode #2013-12782 (Original Airdate 4/9/13) – Patrick's emotional dedication of the Nurses Ball to Robin is interrupted by Britt's revelation that she's carrying Patrick's baby. Britt's evil mother, Leisl, toys with the knowledge that Robin is not dead, but in fact being held by Jerry Jacks. Ellie confronts Maxie after overhearing that Maxie has a secret about the baby. Tracy and Monica go onstage with Epiphany to perform a Pointer Sisters song. The 2013 Nurses Ball draws to a close with a special final number.