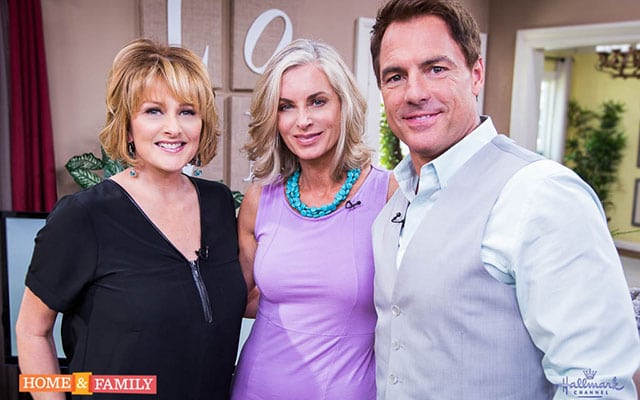 She's nominated for Outstanding Lead Actress in a Drama Series for her portrayal as Kristen DiMera on NBC's "Days of our Lives," and to celebrate Eileen Davidson will appear on the Thursday, June 19 edition of Hallmark Channel's "Home & Family." During her taped appearance, Davidson talks with hosts Mark Steines and Christina Ferrare about her Emmy nomination, her brief return to "DAYS' and recently signing a contract with CBS' "The Young and the Restless," where she's portrayed the popular role of Ashley Abbott off and on since 1982. She also reveals that the length of her contract with "Y&R," which includes the ability to appear on "DAYS" from time to time as well, is for two years. Both soaps are owned and produced by Sony Pictures Television.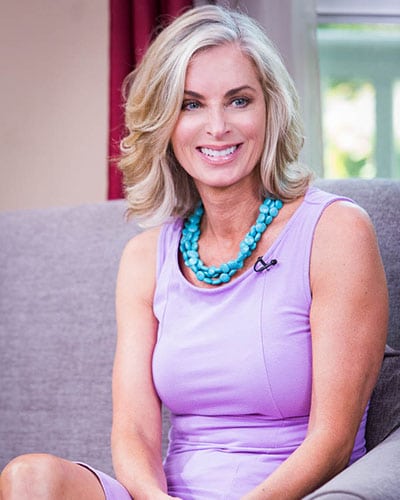 When asked about working on both "DAYS" and "Y&R" almost simultaneously, Davidson shares some insight into how she went from working on "Y&R" exclusively a couple of years ago, only to then find out she'd been let go from daytime's most watched drama series the same day she learned that "DAYS" wanted her back in Salem to play Kristen after more than a decade had gone by since departing the soap.
"It was a weird thing. A couple of years ago, I was called into the production office of 'Y&R' and they said, 'The bad news is we're firing you on 'Y&R,' the good news is 'DAYS' wants you.' Both shows are owned by Sony, so I was kind of in shock. It felt… it was a little manipulative, I really didn't understand it. I took a pay cut, I felt forced into it. I really was kind of bitter, and then I go, 'I got to get out of this,'" recalled Davidson. "I was listening to Carolyn Myss [New York Times bestselling author], and she said, 'You should go into every experience with no expectations and without judgement,' and I just changed my mind about the whole situation. I went in with an open mind and an open heart. I had the best year of my life, the best material, a great time with wonderful people, and then I was awarded with an Emmy nomination. It really was like a metamorphosis for me because I kind of felt manipulated into this weird situation."
When asked if she was sure she wanted to take the deal that was offered, or if she let the part of her take over that had the negativity about the situation as it was handled, Davidson said, "First of all, it was a paycut and we're a two income home. I couldn't just say no to it. So I felt forced into a situation where I wasn't given much time. But it all worked out, and I'm very happy. I'm now doing both shows so it's all worked out really well."
Despite all the behind the scenes drama leading up to the switch in shows, the actress notes that things ended up working itself out for the better. "People were so amazing from the get go. Lovely, wonderful, warm people that are just trying to do a great show. No divas, great attitude, everybody's working together. They just welcomed me with open arms, including Deidre Hall [Marlena Evans], even though I had been on the show before, It was just so warm and fuzzy and just so great," she said referring to her return to "DAYS" from 2012-2013. After taking the advice she got from Myss' show, Davidson said, "I realized I was supposed to see that show at that moment because I didn't want to walk into the situation hating it. I just kind of made that shift and it changed everything."
For those wondering how long her contract with "Y&R" is and what it means for her possible future with "DAYS," she reveals that she signed a two-year deal with the CBS soap that includes an option to make future appearances on the NBC drama. "I just signed a two-year deal with 'Y&R' again. I left 'DAYS' a year-ago to spend more time with our 11-year-old son, who's transitioning into the sixth grade. I took some time off and I did a small story arc on 'DAYS,' which I just wrapped up two weeks ago. It's going to start airing at the end of July for three months where [Kristen] comes back into town. I know, it's very complicated, and now I'm back on 'The Young and the Restless' starting in September for two years, but it's in my contract that I can do some days on 'DAYS.'"
Learning that "Y&R" was interested in her on a more permanent basis, outside of her blink and you missed it appearances in the past year or so, Davidson says, "It was really nice. It was very rewarding to know, there had been a changing of the guard there too in the interim, so they were like, 'Oh, my god. We want you back' and CBS Daytime was like, 'Please, come back.' They were very nice about it."
To watch the full "Home & Family" interview, click play below.
"Home & Family" airs weekdays at 10:00 AM ET/9:00 AM CT on Hallmark Channel