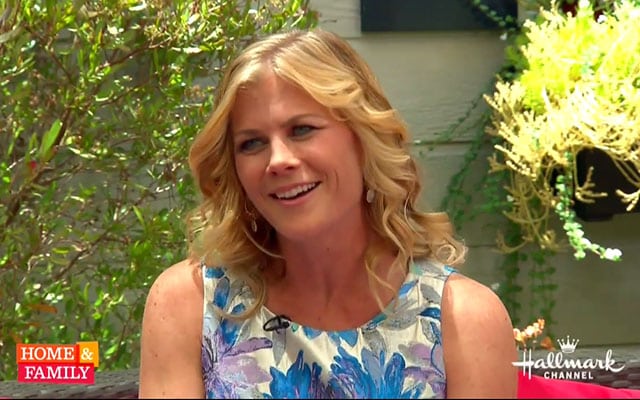 On today's edition of Hallmark Channel's "Home & Family," hosted by Mark Steines and Christina Ferrare, "Days of our Lives'" Alison Sweeney (Sami Brady) stopped by to discuss her new book, "Scared Scriptless," and her decision to depart the daytime drama series after more than 21 years.
"I've been working with the crew and cast of 'Days of our Lives' since I was 16 years old. It was really hard to decide to move on, and then it was a lot harder than I thought it would be to tell people about it," said Sweeney about her decision to leave the soap. "I had prepared for myself to be emotional, because I know I feel that way about everybody, I didn't realize that everyone else would have the same level of emotion."
ALSO READ: Alison Sweeney Talks About Her New Book and 'DAYS' Exit
When asked if she took anything with her after such a long period of time on the show, Sweeney noted, "They need it all. They are going on without me. There's nothing there I could take." She later revealed that co-star Lauren Koslow (Kate Roberts) had everyone sign a photo book created by the prop department highlighting key moments throughout her 21+ years on the show. Meanwhile, former onscreen love interest Galen Gering (Rafe Hernandez) made a video of the show's cast and crew saying goodbye to Sweeney and sharing heartfelt stories, and even pretending to have a yard sale in her dressing room.
On her final day filming at "DAYS," Sweeney says she took a picture of her parking spot – number 25, which is the same spot she parked in during her entire time on the show.
INTERVIEW SEGMENT

IN THE KITCHEN