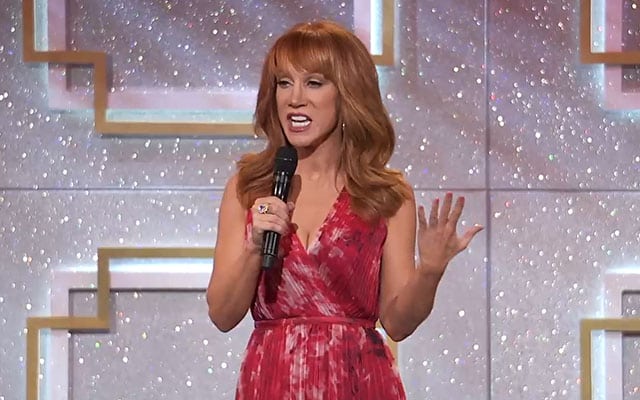 Everyone loves a comeback, and it's no different in the case of the rumor that the Queen of Soaps, Susan Lucci (ex-Erica Kane, "All My Children"), managed to get Sarah Michelle Gellar (ex-Kendall Hart) fired from the sudser back in the 90s. Though the rumor is quite ancient in the daytime industry, it's getting a second life on sites like Us Weekly and Perez Hilton thanks to a comment Kathy Griffin made as host of the 41st Annual Daytime Emmy Awards live webcast on Sunday, June 22.
The Bravo comedian announced that she ran into Gellar at the Hollywood Bowl on Saturday, June 21, and asked if she had ever starred on a soap opera. "She said, 'What?! Don't you know I was on All My Children?! I played Erica Kane's daughter,'" Griffin recalled. "I know, right? So get this s—. I go, 'Really? What was it like?'"
She then went on to explain that it was not a pleasant experience for Gellar, thanks to Lucci, who reportedly got the actress fired. "[Sarah] goes, 'I'll tell you exactly what it was like: I won for best young starlet of tomorrow and it was the one year that Susan Lucci wasn't nominated.' And by the way," Griffin added, "There should be a hush across the room right now because I know you guys can tell that I'm going to say some s— I shouldn't say."
The comedian then claimed, "Anyways, she told me that Susan Lucci couldn't stand her, and after she won the Emmy, Susan Lucci had her fired before the show ended!"
As daytime fans know, Gellar was nominated for her first Daytime Emmy Award for Outstanding Younger Actress in a Drama Series in 1994, the same year Lucci was not nominated for Outstanding Lead Actress — the icon's first time not receiving a nom since 1981. One year later, Gellar won the Daytime Emmy Award for Outstanding Younger Actress, and while Lucci was nominated, she didn't see her first Emmy win until her 19th nomination (in 1999).
To wrap up her "insider info," on the "Buffy the Vampire Slayer" and "Devious Maids" stars, Griffin concluded: "You're not going to get that at the Emmys or the Grammys this year, only right here folks! You're welcome Daytime Emmys! Of course none of that can be confirmed—it can only be alleged under the umbrella of the first amendment under comedy and satire."