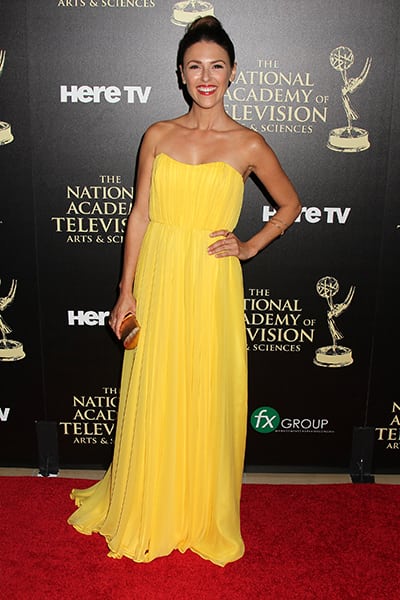 Soap Opera Network's 41st Annual Daytime Emmy Awards red carpet coverage continues, this time with "The Young and the Restless'" Elizabeth Hendrickson (ex-Chloe Mitchell), who was nominated for Outstanding Supporting Actress. Her co-star, Amelia Heinle (Victoria Newman), may have taken home the award at the end of the night, but Hendrickson was shining like a winner on the red carpet!
Soap Opera Network: You look so beautiful! What a fun bright pop of yellow.
Hendrickson: Thank you.
Who is the designer?
Shareen. I've worn her a few times, but this year it's custom made.
I know you were traveling a lot after leaving the show, and you had said you were going to have to do everything Emmy related last minute. Is that how it happened?
It all happened very last minute. She made this in about five days, but I had one dress picked out, she made it, I got there, tried on something else, and then [she] made a whole new dress. I kept on changing! I knew I wanted to go bright, I knew I wanted to go bold. I'm usually a little bit more trendy in my every day life, and I like to wear a lot of black. But this year, I just wanted to be bright and happy.
Do you have any good luck charms on you today?
I do! My manager put this little "dream" rock in a gift bag that she gave to me, and I slipped it [into my clutch]. Oh look, it's from Pier One, look at that!
That was so sweet of her!
Do you think it has magical powers? Probably not. [Laughs]
Well I hope so! What did you do during the day leading up to walking the red carpet?
Oh, well my dog kept me up. She woke up at 4:00 and kept me up until 5:00, that little brat! And so I slept in a little bit, woke up at 7:45, packed my bags, went to SoulCycle, had some coffee, got ready here and then came downstairs.
Is SoulCycle a workout class?
Yeah, spin class. I had to spin out the nerves!
Are you nervous now?!
I'm finally feeling better. But I was shaking all day.
Well you did spectacular work this year, and I know you feel that you did, as well.
Yes, thank you. That's all that matters. Exactly. Thank you for reminding me!