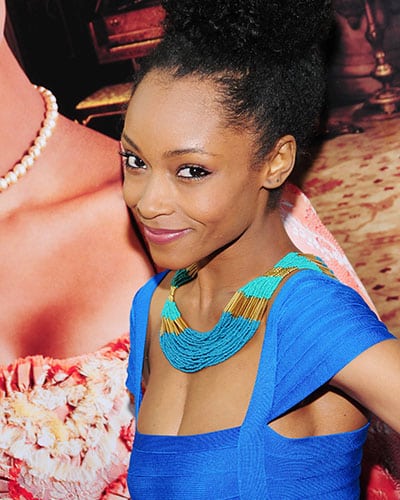 Best known as the runner-up in the season three finale of The CW's "America's Next Top Model," and her contract role as Cassandra Foster on ABC's "All My Children," TVLine is reporting that Yaya DaCosta has landed the coveted role of Whitney Houston in Lifetime's upcoming biopic, aptly titled "Whitney Houston," which chronicles Houston's headline-making relationship between the iconic singer, actress, producer and model, and singer, songwriter Bobby Brown — from the time they first met at the very height of their celebrity, to their courtship and tumultuous marriage.
It was announced last month that Golden Globe® Winner and Oscar® Nominee Angela Bassett had signed on to direct the TV movie, which marks her directorial debut.
"I have such regard for both Whitney's and Bobby's amazing talents and accomplishments; and I feel a responsibility in the telling of their story," said Bassett when news of her signing on to direct came to light. "Their humanity and bond fascinates us all. I'm beyond excited to have this opportunity to go behind the camera and into their world."
In addition to "Top Model" and "AMC," DaCosta has appeared in episodes of "Ugly Betty" and "House M.D." She appeared in last year's "Lee Daniels' The Butler," alongside Oprah Winfrey and Forest Whitaker.
Produced by The Sanitsky Company, "Whitney Houston" will be executive produced by Larry Sanitsky ("Betty & Coretta"). Shem Bitterman ("Betty & Coretta") wrote the script. It is scheduled to premiere in 2015 on Lifetime.