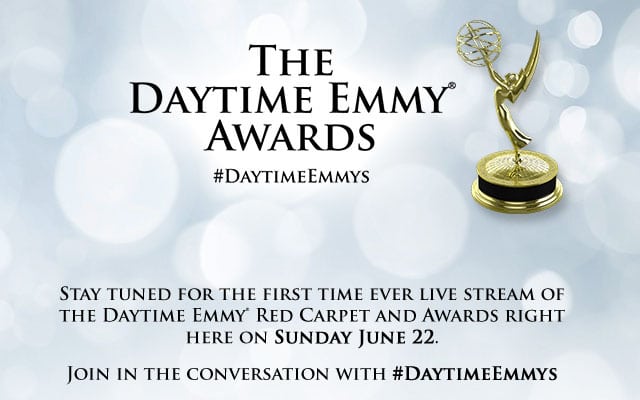 After announcing plans to stream "The 41st Annual Daytime Emmy Awards" for the first time online on Sunday, June 22, the National Academy of Television Arts & Sciences (NATAS) has updated daytimeemmys.net for a user friendly experience.
The update follows several iterations of the webpage going from a stage of "coming soon," to requiring user authentication (via username/password), and finally a 403 Forbidden page. This of course was clearly due to the site currently being constructed in preparation for daytime's biggest night. In a banner posted on the current design of the page (shown above), however, two things stand out.
For the first time NATAS publicly acknowledges that there will be a red carpet presentation, which Soap Opera Network has learned will take place beginning approximately at 5:30 PM EST/2:30 PM PST through 7:30 PM EST/4:30 PM PST. You'll recall NATAS put out a casting call for hosts of its red carpet/social media presentation last week. The awards itself will begin at 8:00 PM EST/5:00 PM PST.
ALSO READ: DAYTIME EMMYS: Co-Executive Producer David Michaels on Streaming, Commercials, TVGN Rumors and Clips
In addition to the red carpet presentation, users of social media are being asked to use hashtag #DaytimeEmmys, where they can follow all things related to the Daytime Emmy Awards now through the conclusion of Emmy night.
Scheduled to take place beginning at 8:00 PM EST/5:00 PM PST on Sunday, June 22, fans of programming airing between the hours of 2:00 AM and 6:00 PM can tune into www.daytimeemmys.net for the telecast, which will be streamed live from the Beverly Hilton Hotel in Beverly Hills, CA.