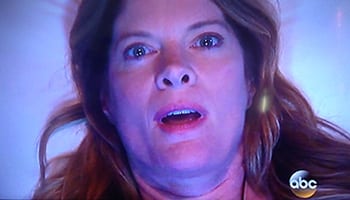 She departed CBS' "The Young and the Restless" last year with her character Phyllis Summers in a coma, and now Michelle Stafford has returned to daytime with a new role on "General Hospital" as the comatose Nina Clay. An ironic character choice for sure, but ABC promises fans that the truth surrounding Nina's mysterious circumstances will reveal itself in the weeks and months to come, as her tangled web of family history starts to unravel. But until then fans are left wondering how the show managed to keep such a reveal so secret and how it all actually came together. 
In an interview with Daytime Confidential, "GH" head writer Ron Carlivati shares that the scene aired today revealing Michelle in the role of Nina was actually shot only recently. "GH has been on hiatus for the past two weeks and Michelle doesn't really start taping until we resume. But we realized that as soon as she did, the news would be out there long before her episodes began airing. It was actually Frank's idea to try to slip her into an earlier show that had already been written and shot, so we could take everyone by surprise. So he snuck her into the studio recently, at the end of the day, to tape the one scene you just saw. That was inserted after the fact. We've been sweating it out ever since that it would stay under wraps."
Carlivati also put rumors to rest that Stafford's joining had been planned almost immediately before she wrapped her run at "Y&R" last year. Referring to an image of Stafford alongside "GH" executive producer Frank Valentini, Carlivati says, "When you hear that an actress of Michelle's caliber and popularity might potentially be available, of course you can't help but think, 'What if?' But I was there when those pictures were taken, and all you're seeing is a bunch of people having fun at an industry party. Although I must admit that my memory of that evening is a little fuzzy. I vaguely remember a tequila shot or two…"
For more on what the writer has to say about Stafford and keeping secrets in this day and age, click here.