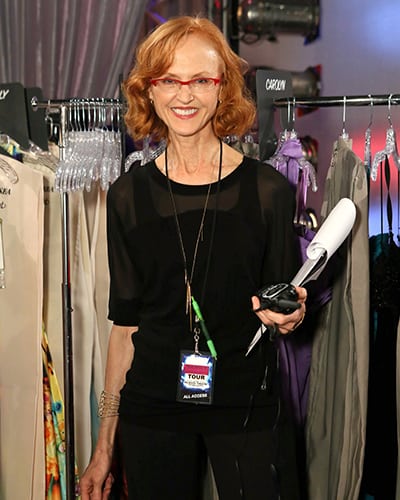 Oh, snap! Former "All My Children" actress Jill Larson (ex-Opal Cortlandt) is set to appear on "The Young and the Restless" next week during the sudser's major fashion show crossover storyline with "The Bold and the Beautiful," and it seems her alter ego will be quite the force to be reckoned with! Soap Opera Network caught up with the actress to get the details on her exciting guest-starring role, so read on to find out how she'll impact some of Genoa City's most popular characters!
The daytime community is known for being rather small, and that unique benefit is how Larson landed the role of Connie Ross, a stage manager who must referee Chloe (Elizabeth Hendrickson), Chelsea (Melissa Claire Egan), Lily (Christel Khalil) and Hilary (Mishael Morgan) during the big fashion show on Monday, April 14. "A lot of people obviously from 'All My Children' are now working at 'Y&R,' and one of them happens to be a dear friend of mine, Jean Passanante, who is the headwriter there and used to be at 'All My Children'…. And so it just came up through her, actually, and she ran the idea by ['Y&R's executive producer, Jill Farren Phelps], who I had never met, but of course I knew very well who she was. And it was just kind of like that how it happened."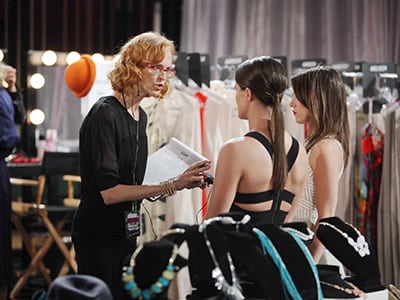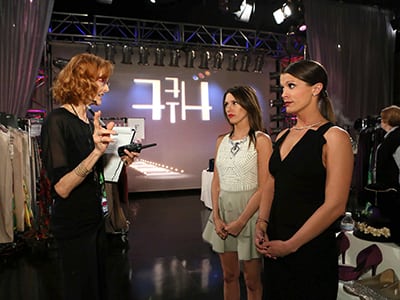 But just because her former "AMC" connections landed her the role doesn't mean fans will be seeing her former "AMC" alter ego on the "Y&R" screen: Connie is nothing like zany psychic Opal! "[She's] one of those really focused women who has an important job to do and has to really crack the whip," she teases of what fans can expect. "You can imagine, if you're trying to run a fashion show, and of course, a fashion show on a daytime series, there are going to be all kinds of things that go wrong to stop the show, and so her job is constantly being challenged by the personalities around her and their priorities — or lack thereof —and she just wants to get the show on the road. She just wants to get it going and have it produced smoothly. Ans she does what she needs to do to make that happen! So I get to kind of dress down a couple of people, and of course, that's fun.
"But speaking of Opal," she continues, "There were one or two times where I thought, 'Is this something Opal would do?' Because I have to be careful. I've been Opal for so long, that I hope she doesn't start to sort of bleed through into the character of Connie."
Which, as the actress admits, is a bit of a challenge, considering she was surrounded by a slew of former "AMC" personalities like Egan (ex-Annie), Hendrickson (ex-Maggie), Peter Bergman (ex-Cliff) and Jacob Young (ex-JR; Rick, "The Bold and the Beautiful"). "It's always a little hard coming into a new show, because even if you're familiar with the show, you don't know the people, the actors, personally, but especially in my first day, I got to skip over that kind of awkwardness, because first of all, just everyone is so marvelously kind, even the people that I know just sort of from the daytime circuit, if you will ,but have never worked with, and I knew so many others already," Larson says. "And now Cady [McClain, Kelly Andrews, "Y&R;" ex-Dixie Cooney, "AMC") is there, too! She came the day after I was finished. I haven't had a chance to talk to her, but I'm sure she's having as wonderful of a time as I had there."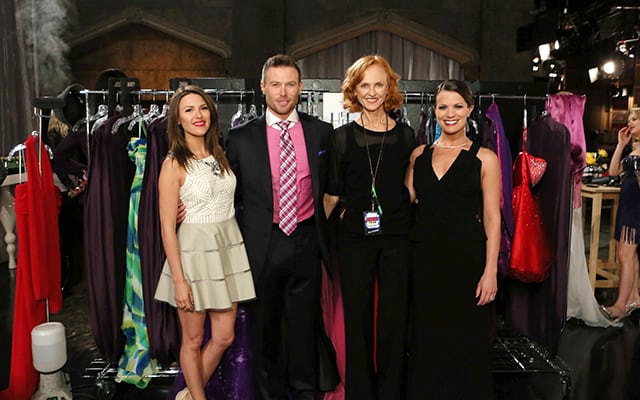 As for what Larson has been up to since "AMC" wrapped, she's proud to share that she has starred in two feature length films, both due out later this year: "Forever" and "The Taking." The first is a drama directed by the "First Kiss" video director Tatia Pilieva and also stars Deborah Ann Woll ("True Blood") and Luke Grimes ("True Blood," "Brothers and Sisters").
"It's about a group of people who are brought together because they have all suffered some horrendous event in their lives, watching their child drown or things like that, things you feel you will never recover from," she says of the film. "And they come together in a sort of communal living setup in a house out in the country, a big old estate that is owned by this psychiatrist and his wife, and I'm the wife. But I am dying of leukemia, so it's just sort of the unfolding of that tale and what happens when you bring all of those elements together under one roof and how surprisingly joyful they end up being in spite of what they have endured."
The second is a horror film, which is quite funny considering Larson has never even seen a scary movie in her life! "That stuff, it enters my dreams, it's just somehow very powerful for me, and so it's not worth it for me to carry it around," she says, adding that she once tried to make it through "Rosemary's Baby" but had to turn it off. "Working on this film though, I understand it better now. I understand the value of it: The horror genre is sort of like a roller coaster, the thrill that you get, or the scare that you get from an amusement park ride. It's the same kind of adrenaline rush that you get."
And, if all came together correctly, the actress says "The Taking" will produce quite the spine tingling thrills! "I play a woman who has been diagnosed with Alzheimer's, and my daughter comes home to care for me, and she somehow crosses paths or gets to know a young woman who's getting her PhD and is doing her thesis on Alzheimer's and how it affects the person who has the disease and the person who's caring for that person," she explains. "And so she makes some kind of a deal with my daughter to be able to come and bring two guys who are sort of an informal film crew and document my decline, basically. So throughout the course of my decline, that's when we start crossing over into the supernatural. And there's also a specialist, a medical doctor who specializes in Alzheimer's, and he's always reassuring them that my odd behavior is indeed part of the diagnostic of Alzheimer's, and saying, 'Yes, it's upsetting, but that's just how it is,' and so they keep looking to Alzheimer's to be the explanation and the justification for my increasingly odd behavior. I think it's going to be an interesting story, and I hope that audiences will be intrigued."
Filming "The Taking" was an overwhelmingly emotional experience for Larson though, as she lost her mother to Alzheimer's. "It was quite an emotional journey, I will say, and I felt sometimes like I was becoming my mother, and that was good and bad, I guess. But that's why we're actors, to be able to tell stories and tap into emotion and circumstances. Some of them are things that we don't necessarily relish looking at, but we know it is important to look at them."
And it's this phenomenon that makes the actress feel so lucky: She's been able to play a variety of roles in a variety of mediums. But revisiting the world of soaps was particularly special for her. "It's just really a pleasure to even just slip into the shoes and the world of daytime again, however briefly," she says. "It was great fun, and I came away thinking, 'I really do miss those days of going to work and getting a script and playing with the people that I know and love.' It's a very unique environment, daytime, and for an actor, it's really wonderful."
Look for Larson to appear on "Y&R" on Monday, April 14.