Five years after being taken off contract and placed on recurring status, Jacklyn Zeman (ex-Bobbie Spencer, "General Hospital") has opened up to Soap Opera Digest in its newest issue about the circumstances surrounding her unexpected departure from the ABC daytime drama series.
"It was like a grieving process when I left the show because it was such a part of my life for so many years. I mean, I played Bobbie for over 30 years, pretty much five days a week. So when Jill Phelps [former executive producer, now EP of 'Y&R'] decided to get rid of the character, I was one totally unprepared and two, totally shocked, because I just assumed that Bobbie would always be there. I had this commitment to the network and I felt that the commitment worked both ways," reveals Zeman.
The actress later adds, "It was like the death of Bobbie in my heart and soul, and the death of my livelihood and my work and my 'GH" family, the fans as well as the people who worked on the set. All of that was all of a sudden gone, like, overnight. One day I was there and then it was like, 'Merry Christmas, you're fired,' and an intern came down and handed me all my stuff. I have incredibly wonderful feelings about the time that I spent there and the people who I worked with over the years, but in going, I've also learned, like, some people who I thought were my friends, who I worked with very closely, I never heard from again. They were here today, gone tomorrow. So my real friends like Kin [Shriner, ex-Scotty Baldwin], Lynn [Herring, ex-Lucy Coe] and Kristina [Wagner, ex-Felicia Jones], who do still call, are really important to me. I've learned that is really what matters in life, that connection you have to people."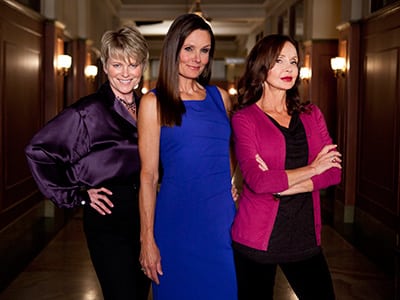 In addition to revealing what went down all those years ago, Zeman also says that she has had recent conversations with the show about the possibility of a return."I have talked to Frank Valentini, the new executive producer, because when he first came on the show, [Manager] Michael Bruno went to see him and said, 'Oh, Jackie's in the breakdowns.' I said, I haven't worked there in a year. That's great, but nobody's called me to see if I'm available," said Zeman.
Unfortunately, due to scheduling fans won't be seeing Bobbie back on the canvas anytime soon. Zeman says she's currently traveling for the next couple of months, but Valentini is quoted by Zeman as saying, "We're ahead, so I could give you plenty of notice." The actress then says, "He did, at one point, call just to say that he had a meeting and he didn't have the budget he thought he was going to have. So I don't know."
Zeman, along with Herring and Judi Evans (Adrienne Johnson Kiriakis, "Days of our Lives") are scheduled to host "Wicked Women" week during Investigation Discovery's ongoing "Days of our Knives" series. "Knives" comes to you daily as re-airings of all of ID's most popular programs. "Wicked Women" consists of episodes from the ID series "Deadly Women," "Unusual Suspects," and "Wicked Attraction." The "Wicked" theme airs during the week of August 27-31 from 1:00 to 4:00 PM ET/PT on Investigation Discovery.
For the full Digest interview, pick up your copy today.