Cast, crew, executives, and reporters gathered on the set of "The Young and the Restless" last week to celebrate Melody Thomas Scott's 35th anniversary playing the legendary Nikki Reed. Her closest co-stars gave heartfelt words of congratulations to the actress, followed by an incredibly emotional speech from Scott herself. But don't fret about not being able to take part in the special event: Soap Opera Network was there to capture every moment!
The event started out with 'Y&R's' executive producer, Jill Farren Phelps, thanking Scott for the dedication and passion she's brought to the CBS sudser for 35 years. "Michael Logan from TV Guide recently wrote that Nikki has killed three people, been married 11 times, battled pills and booze, worked as both a stripper and a hooker, and spread VD — yet somehow, she still manages to remain a pillar of Genoa City; this takes [a talented] actress, and this is because Melody breathes life into all of the things she does," Phelps stated. "You have managed to breathe life into this rich character for 35 years and you continue to do so, to keep her real and still wildly entertaining. So thank you Melody, for sharing your heart and your talent with millions of viewers and with all of us for so many years. Thank you for your commitment, thank you for your endurance, thank you for being so kind to me, and thank you for this lovely celebration. Congratulations."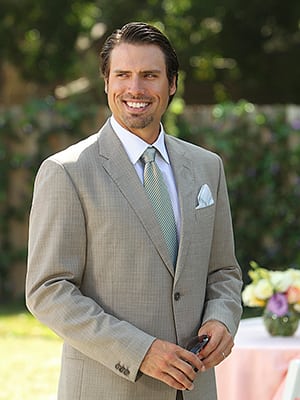 Scott's onscreen son, Joshua Morrow (Nicholas Newman), followed Phelps' speech with a humorous memory regarding the first time he ever met/saw the iconic actress. "The first time I ever met Mel, and I don't know if she even remembers this, but she was coming in, staggering, hammered into a church scene, and [former casting director] Marnie Saitta walked me in and said, 'That's going to be your mom,.' And she was just a mess! And I was like, 'She's hot!'" he recalled with a laugh. "So the next day I worked, she invited me into her [dressing] room to talk and meet, and me, just straight off the bus from Oklahoma, I didn't realize how you should treat a woman, in Hollywood in particular, and I asked her how old she was. She said, 'Why don't you guess?' And so, I didn't know how the game was played, I guessed and nailed it. And she looked at me and goes, 'Much people guess much younger.'
"…. It was an uncomfortable nine seconds, and that's really long if you think about it!" he continued. "And I just didn't know what to do, and she was like, 'Oh, I'm just messing with you,' and I thought, 'Our relationship started off on the wrong [foot]!' But Mel has always been my second mother… That [she doesn't] have 10 Emmys at this point is a joke to me; I think [she's] incredible. I am completely honored that I get to play her son. And I remember asking her about a year in, 'I can't call you Mel anymore, I'm going to call you mom. Are you okay with that?' And she goes, 'I would have been upset if you didn't.' I love this woman, thank you so much for all that you have taught me on this show. I love you."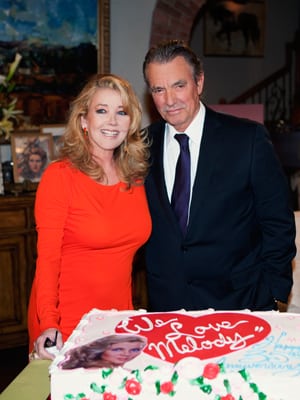 Eric Braeden (Victor Newman) then took the mic to share some of his thoughts and memories of Scott and their 34 years working together. "34 years I've known you. I don't know quite what to say, to be honest with you," he began. "We've been married four times, our lives are known to millions of people all over the world, and yet, we don't really know each other that well. The peculiar thing about this business is that we work intimately with each other, and then we go home and we don't really get to know each other that well. And yet, when we work together, when I know I have scenes with Mel, I feel I'm at home.
"[Show creator William] Bell had written a scene where Nikki asked me about my childhood, and after doing that scene, I knew I was going to stay here, because it allowed me and it allowed her to show vulnerability, and that is the secret to success in this business, of this medium," he continues. "It is vulnerability, pure and simple. I've never found that with anyone else on this show as much as with you. So I want to thank you for over 30 years [of] wonderful working conditions."
A teary-eyed Scott followed her longtime co-star with a heartfelt speech of her own, revealing details about her life that — up until that point — only a handful of people knew. "Oh Lord help me… Wow!" she began. "I'm going to talk about family. That word often comes up when we are interviewed by reporters or just asked about what the general vibe is around our set… and I got an early start learning about family, or the absence thereof. I had no mother, I had no father, I had no siblings. And the woman that was deemed to be the only choice of raising another child was my maternal grandmother. Alas, it was a poor choice. She suffered with mental illness and was a compulsive hoarder, ruling our little nuthouse with a very firm fist. Not wanting to spill the secret that we lived amongst the hoarder's hoard, no one — and I mean no one — ever stepped inside that house. And that included the very few friends that I was allowed to have, as I was extremely overprotected. So I learned how to appreciate solitude out of necessity. I had my books and my puzzles. I read at an early age, I played the piano for hours on end, and I had my Lucy, "I Love Lucy." She should be here somewhere. So what to do with this unexpected, late in life child? Put her in show business! Well, that turned out to be my reason for living. My happiest childhood moments were spent on a sound stage, or an acting class, or a dance class or a horseback riding class, all of those things that child actors have to know how to do or at least say they know how to do.
"[Alfred] Hitchcock scared the living wits out of me when I was eight [and starred in his film, "Marnie"], but that wasn't enough to make me leave this magical, joyous world I discovered when I was only three years old," she continued. "When I was around 10, I worked with Tammy Grimes in her short lived television show. We had a scene where she tucked me in to bed. And she said to me, 'Goodnight Lucinda. Sleep tight, don't let the bed bugs bite.' Well, I thought that was so funny, I laughed out loud, ruining the take completely. I had never been tucked in, and I certainly had never heard of these 'bed bugs.' So I just thought she was kidding around, and I thought it was hilarious — though our director was not as amused. So we reshot the scene. All was well, the series was cancelled. But I had found my niche. Actually, I had found my life.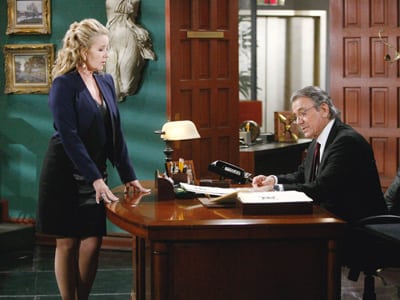 "In February of '79, the most prolific writers in television — Lee and Bill Bell — decided that I would be a suitable replacement for the actress playing Nikki Reed," she continued. "I had never seen this show called "The Young and the Restless," but it was a job, and I knew that I could pay my rent for the next 13 weeks and I would get to spend my time in my haven, the sound stage. My life is definitely continuing to improve. Not only did their decision give me a job, but it also eventually gave me my husband, [former 'Y&R' executive producer Edward J. Scott]. 28 years and counting, God help us! And my perfect, glorious children… My angels…. and most of all, friends who are most definitely my family — finally. All of the wonderful people here, standing here now, you don't know it, but you contribute to the joy that surges through me every time I walk into this building, every one of you. Castmates, crew, staff. All of you. And I might be tired or snappy or worried that I haven't learned my lines yet, but just your simple, 'Morning, Mel,' melts my heart. Your love and support and your sense of humor and your willingness to brighten my day means more to me than I could ever express. And as lovely as it is, this celebration isn't really for me: it's for all of you and my wonderful fans and what you have all given me. I wouldn't trade it for anything in the world. Not even an Emmy. None of this would be possible, of course, without the continuing love and support of CBS, Sony and the Bell family. I don't dare start thanking people by name…. But I must thank the ones who started it all, of course, the lovely Lee and Bill. I'm sure you were unaware just how much you changed my life that day. Thank you for this life. Thank you for a life. It's my life and my family."
Congratulations on 35 wonderful years, Melody!