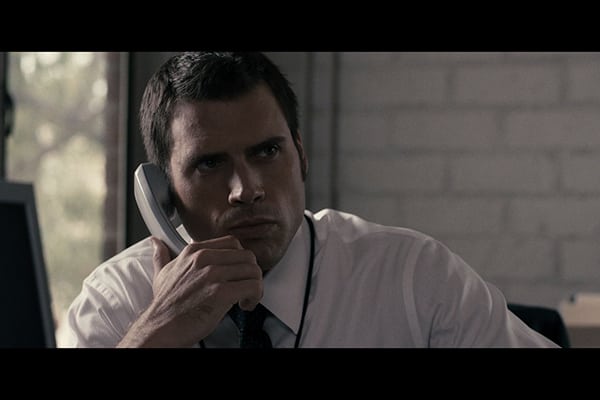 Anyone who's been watching "The Young and the Restless" as of late knows that Nicholas Newman's life is about to be blown to smithereens. Not only has his father been tricking the love of his life into thinking she's been seeing and speaking with her dead daughter, he's on the verge of finding out that the very same woman he loves has been lying to him about the true paternity of his daughter! The drama is all pretty typical for Nick's portrayer, Joshua Morrow — who's been dealing with twisted Genoa City plots for nearly 20 years — but the drama he faces in his latest stint in the political drama thriller 'Tentacle 8?' Not so typical for him! Soap Opera Network spoke with the actor about momentarily stepping away from his "Y&R" craziness to film the exciting project, which is available on DVD in select stores and on Amazon today. And we also got him to spill on all of the Victor (Eric Braeden), Sharon (Sharon Case) and Adam (formerly Michael Muhney) drama, too!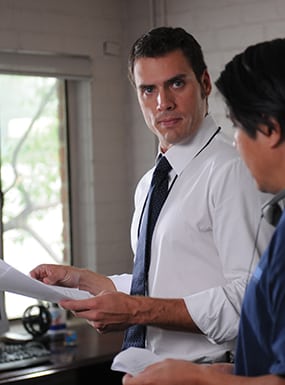 Fans of CBS' number one soap have seen Morrow as the hot-blooded and impetuous character of Nicholas for nearly two decades. And though the Alaskan-born actor loves to play his ongoing alter ego, he admits that it was rather refreshing to take a bite out of a new character — especially within a project as clever and nail biting as "Tentacle 8," which follows an NSA analyst entangled in a top secret investigation after a malicious computer virus crashes U.S. Intelligence Community networks. "I really, really enjoy being able to play somebody other than Nick; it's fun to go shoot something else for a little bit," he says. "And this is a very clever story written by director, John Chi, who's whip smart."
Morrow plays Brian Mosley, a character he says is a complete 180 from Nicholas. "Nick Newman quite often doesn't think situations through clearly, and he acts impulsively," he explains. "He has a huge heart, and his family matters to him very much, but he's got kind of a quick trigger and doesn't really assess all of the information before he acts — whereas Brian Moseley is pretty much the polar opposite. His job is to figure out the truth in situations and kind of do some dirty work for some important people. But sometimes, in his journey for the truth, he realizes that maybe he's not being told the truth from his superior officers, maybe the problems are much deeper, so he has to kind of wade through a bunch of truths and lies to get to the ultimate truth.
"Brian is much more of a cerebral person than Nick," Morrow continues. "He doesn't think with his heart near as much; he's all about his brain. He's got to solve the riddle, because he's not being given all the answers, and that's kind of the best way to describe it without giving away too much of the story! But I will say it's a thin line between good and evil in this movie. You don't really know who the bad guys are at all times."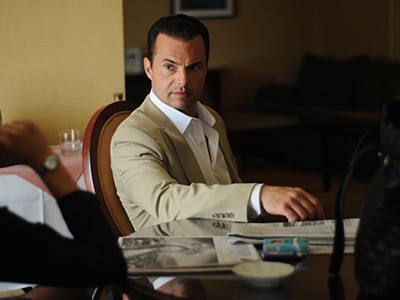 In addition to Morrow, "Tentacle 8" features several other daytime stars, including John Callahan (ex-Edmund Grey, "All My Children;" ex-Dr. Baker, "Days of our Lives"), Matthew Borlenghi (ex-Brian Bodine, "AMC;" ex-Anthony Marino, "DAYS"), Bruce Gray (ex-Mark Wilcox, "Y&R") and Teri Reeves (ex-Megan McKenna, "General Hospital"). "It was such a great cast and crew," Morrow enthuses. "It was just an awesome group all around. And when I agreed to do the project, I remember telling my wife, [Tobe Keeney], 'It's not a big role, but I really love this character, and I sure do want to do it. They're shooting it in LA, and I think this will be perfect for me.' And I did end up loving it. I loved working with the director — I'd work with him again anytime he wanted. He was very smart. And I'm honored to have been a part of the project."
As for "Y&R," the actor knows that life for Nicholas is about to get flipped completely upside down — and he's welcoming the drastic storyline twists that will soon be ahead. "What's coming up is pretty crazy," he teases with a sly smile of the Sharon paternity story and the Victor/Sharon/Cassie (Camryn Grimes) story. "Soap writers do what they do: they build up stories and then they blow them up, and I have complete trust in them to [destroy Nick's life] in a great and creative fashion."
But what specific twists and turns do the writers have in mind for poor Nicholas? How will he fit into the major search for Adam? What does Morrow think about the recent departures of some of "Y&R's" most popular actors/characters, including Muhney, Billy Miller (ex-Billy Abbott), Michelle Stafford (ex-Phyllis Summers) and Elizabeth Hendrickson (Chloe Abbott)? You'll have to wait for Part 2 of SON's Joshua Morrow Center Stage interview to find out! In the meantime, enjoy this teaser trailer for 'Tentacle 8,' which is now available on DVD in select stores and on Amazon, and don't forget to check back tomorrow for more from "Y&R's" Morrow!