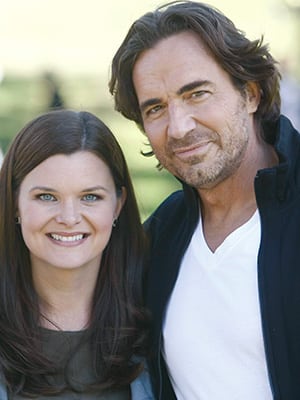 "The Bold and the Beautiful" is amping up the intrigue this March with some major "oh no they didn't!" plot points: Ridge (Thorsten Kaye) and Katie (Heather Tom) have a sensual sex session, Brooke (Katherine Kelly Lang) and Bill (Don Diamont) go on booze benders, dead Darla (Schae Harrison) makes a ghostly return and Aly (Ashlyn Pearce) brings whole new meaning to the term "super strange!" Read on for more details, straight from TV Guide and "B&B's" executive producer, Bradley P. Bell!
This month will prove to be can't-miss-television for CBS' fashion oriented sudser, starting with Brooke's reaction to her sister, Katie, and recent fiancé, Bill, doing the deed. "Brooke is completely stunned. Her head is spinning. She never loses!" teases Bell of the dramatic story. "It's such a foreign concept to her that she could be No. 2 — and losing Ridge to her sister, Katie, of all people! When 'B&B' started, who would have thought that little Katie with the pimples would steal away the one and only Ridge Forrester? [Laughs] It was the ultimate long shot! Brooke feels very betrayed by Katie."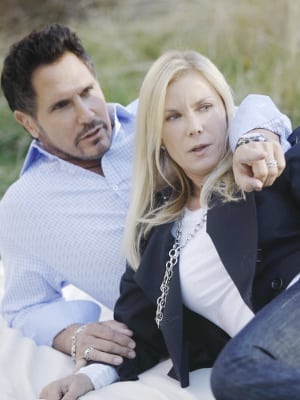 The result, the exec reveals, is a new direction for both Brooke and for Bill. "Brooke and Katie have been trying to keep their sisterly bond but this really puts the relationship to the test. Brooke doesn't know quite how to handle it, so she ends up turning to liquor. Our Brooke will hit the skids," he reveals, adding that the turn eventually connects her to Bill on a whole new level. "Bill and Brooke will realize they're much more alike than they thought. We'll be taking them into some interesting new territory."
And that's just the tip of the iceberg when it comes to March Madness storylines. For more details — including details on Ridge and Katie's sex scene, Aly's brain-bending behavior and Darla's "return" from the grave — check out TV Guide's interview with Bell here!