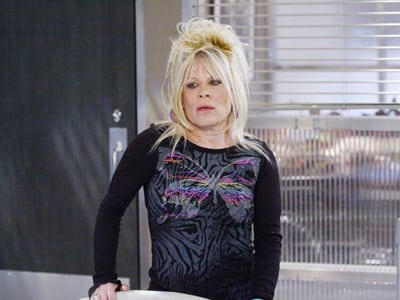 (SoapOperaNetwork.com) — Art imitates life as "One Life to Live" does what it does best by poking fun at itself for an upcoming storyline. Beginning next month, the show's once popular soap-within-a-soap, "Fraternity Row," gets canceled due to sagging ratings, leading one loyal Llanview fan to take drastic action to save her soap. The plot mirrors "OLTL's" own predicament, having been dumped by ABC earlier this year.
The story kicks off on Tuesday, December 6, when Roxy Balsom (Ilene Kristen) learns her favorite daytime drama has been given its marching orders, and decides to do whatever she can to help keep it on the air. According to the November 22 print edition of Soap Opera Weekly, that includes circulating a petition among  the residents of Llanview, including a few surprising individuals, to drum up fan support for the sudser. The magazine even gets a shout out on the air courtesy of fellow soap fan Nigel (Peter Bartlett).
The actress tells SOW that "It's kind of mirroring our situation [at 'OLTL'] and there's all sorts of ironies in that. Basically, one of the things that's been very amazing and really touching is our fan support and that's really kind of what the storyline is, from Roxy's point of view, because she represents the fan base of 'Fraternity Row.'"
According to Kristen, "She [Roxy] goes to Clint [Jerry verDorn] to ask him because he used to produce the show and he's not particularly interested. Then she goes to Bo [Robert S. Woods]. Then she tries to recruit the most famous Llanview person, David Vickers [Tuc Watkins], because he's a big movie star! I think the audience is really going to have a lot of fun with it."
But it doesn't end there. As we previously reported, "One Life" creator Agnes Nixon will make a special appearance on the show the week of January 9 as Agnes Dixon, the woman who created "Fraternity Row," when she is interviewed about the the show's cancellation by Llanview's hard-nosed reporter Blanca Morales (Carolina Bermudez). Long-time "OLTL" fans may remember that "Fraternity Row" was a major part of the show in the late 80's and early 90's.
So will Roxy be successful in her quest to save "Fraternity Row" and, if so, will the soap's fate mirror that of "One Life to Live" who is moving its production online with Prospect Park? Tune in to find out!