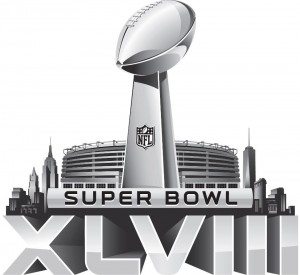 It's time for a special Super Bowl Sunday edition of Tweet This, Tweet That! Each week we compile some of the most hilarious, thought-provoking, controversial, or interesting tweets from some of daytime's most popular stars.
Today the Denver Broncos take on the Seattle Seahawks in Super Bowl XLVIII. Which of your favorite daytime stars picked the Broncos to win – and who has the Seahawks? Which soap actors are more concerned with Super Bowl food than football? And who may be making an appearance on your television tonight? Check it out in this week's Tweet This, Tweet That!
"The Young and the Restless" star Christian Le Blanc (Adam Baldwin) couldn't wait for the big day.
GOOOOOOD MOOOOOOOORNING!! HAPPY SATURDAY FOOTBALLERS!!! Sooooooooon my preciouses…soooooooon… #YR @CBSDaytime @yrinsider @Global_TV

— Christian Le Blanc (@CJLeBlanc) February 1, 2014
"Y&R's" Melissa Claire Egan (Chelsea Lawson) may or may not have been getting ready for the Super Bowl a few days early!
Forgive me Wine Gods, for I have sinned. Again. This time the woman at Bevmo asked if I was throwing a Super Bowl party. I'm not.

— Melissa Claire Egan (@MClaireEgan) January 30, 2014
Claire Coffee (ex-Nadine Crowell, "General Hospital") is a definite Broncos fan.
Cute can get away with murder. RT @gopherkiller2: @clairecoffee This might help. #GOBRONCOS. pic.twitter.com/cAoqEKRNBy

— Claire Coffee (@clairecoffee) January 30, 2014
Crystal Chappell (Claire Preston, "Beacon Hill"; ex-Carly Manning, "Days of Our Lives") thinks the Seattle Seahawks have the upper hand though, and for good reason!
"@Cubfnatic: Utah ape predicts seahawks to win the super bowl http://t.co/uHEXrFk8IO" I'm sleeping with Eli and set this up. Gambling pays;)

— Crystal Chappell (@crystalchappell) January 31, 2014
"GH's" Jason Thompson (Patrick Drake) questioned how some football fans make their predictions.
And there you have it. RT @HuffingtonPost: Half of Americans say God plays a role in who will win the Super Bowl http://t.co/KvoWmuSKfx

— Jason Thompson (@MyJasonThompson) February 2, 2014
"GH" headwriter Ron Carlivati just seemed a little confused over who's playing in the game.
It's Superbowl Sunday! Who will you be rooting for? Other than the Port Charles Chupacabras, of course… #GH

— Ron Carlivati (@carlivatiron) February 2, 2014
Occasional "GH" star Richard Simmons seemed equally as confused.
Happy salad bowl Sunday………….I mean super bowl lol!

— Richard Simmons (@TheWeightSaint) February 2, 2014
Daytime fans that are more interested in the funny commercials than the Super Bowl itself might recognize a few familiar faces tonight! Sean Ringgold (ex-Shaun Evans, "One Life to Live") and Kim Rhodes (ex-Cindy Harrison, "As the World Turns") both teased making appearances in tonight's broadcast.
Game day is here! This is My first Super Bowl Spot God is Good ! #SuperBowlCommercial #seanringgold #GameDay

— Sean Ringgold (@SeanRinggold) February 2, 2014
I think I'm allowed to tell you if you're watching the Superbowl tomorrow, you should see me.

— kim rhodes (@kimrhodes4real) February 2, 2014
Congrats Sean and Kim! But the duo that wins the Soap Opera Network Tweet of the Week, or #SONTOTW as we like to call it, is Chrishell Stause (Jordan Ridgeway, "DOOL") and Melissa Claire Egan (Chelsea Lawson, "Y&R")! The two of them have a serious bet going on the game tonight. We can't wait to see who loses!
Super Bowl bet is ON @MClaireEgan! Loser dresses the other 4 a night on the town. #GoHawks #BowlBet2014 pic.twitter.com/WYxXlilcsk

— Chrishell Stause (@Chrishell7) January 24, 2014
Perfect example of the ONLY way we're different! Our styles. Can't wait to dress @Chrishell7 like me. #BowlBet2014 pic.twitter.com/Lngq10lHJ8

— Melissa Claire Egan (@MClaireEgan) January 29, 2014
@MClaireEgan Don't worry-I'm checking to see if they have your size! #BowlBet2014 #GoHawks pic.twitter.com/ieKlAupjT6

— Chrishell Stause (@Chrishell7) January 31, 2014
Do you have a topic you'd like to see covered in "Tweet This, Tweet That?" Let us know in the comments below and we'll be sure to cover it!