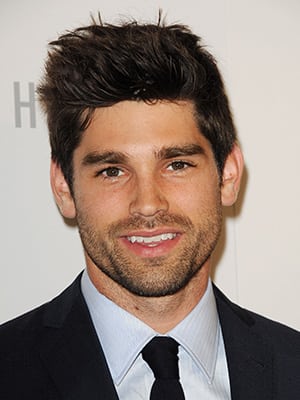 UPDATE Fri, 2/7/14 7:35 PM ET: Ben (Gaston) is Jordan's (Stause) brother and first airs on Wednesday, February 26 (to the audience).
PREVIOUS 2/6/14 11:03 PM: Best known for his singing stints in "Nashville Star" and "If I Can Dream," country music singer and actor Justin Gaston has joined the cast of NBC's "Days of our Lives" in the contract role of Ben, who a casting call from last summer described as "early-to-mid 20s… midwestern or southern (very slight southern accent) country boy. He is utterly charming in his honest sincere approach to life and love. Ben can also sing and/or play the guitar, though it is not necessary." The actor began filming scenes in mid-October and will first air later this month.
Gaston will initially share scenes with Freddie Smith (Sonny), Brendon Coughlin (Tad) and Chrishell Stause (Jordan), who Ben may share a hidden past.
Recently spotted on a May 2014 script, as seen in the widely Jen Lilley (Theresa)/Meredith Scott Lynn (Anne) "DAYS" rap video, fans began to wonder if the show still planned to cast the role or if the character would in fact turn out to be a rumored recast of Chad DiMera (last played by Casey Deidrick).
In real-life Gaston is married to "The Young and the Restless'" Melissa Ordway (Abby Newman). The two were wed in September 2012.