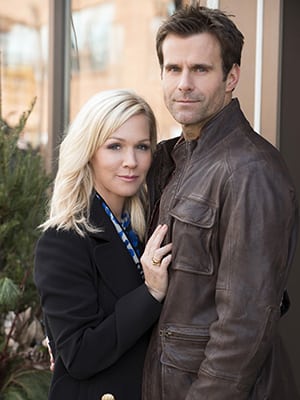 Christmas is coming a little bit early for fans of Cameron Mathison (ex-Ryan Lavery, "All My Children") this year. The actor is gracing the small screen alongside Jennie Garth ("Beverly Hills, 90210") in an ABC Family "25 Days of Christmas" film titled "Holidaze."
The feel-good flick follows Melody (Garth), a high-powered workaholic who plans on spending the holidays jet-setting with friends — until her boss sends her to her sleepy hometown with the task of convincing the townspeople to allow the building of a new discount store! Everyone — including her old friends and high school sweetheart, Carter (Mathison) — are opposed to the idea, which starts a recipe for trouble. Desperate to get out of town and back to her normal life, Melody takes a spill and wakes up in an alternate universe where she never left town and is married to Carter!
Curious to know more? Well, you're in luck! Both Mathison and Garth will be joining the ladies of "The View" to talk about the film on Friday, December 6. And if that doesn't satisfy you, don't worry: "Holidaze" premieres on ABC Family on Sunday, December 8 at 8PM ET/PT.