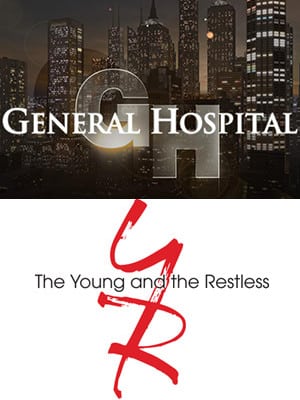 The Writers Guild of America, West (WGAW) and the Writers Guild of America, East (WGAE) announced today nominees for Outstanding Achievement in Television, New Media, News, Radio, Promotional Writing, and Graphic Animation during the 2013 season for its annual Writers Guild Awards. In the category of Daytime Drama, NBC's "Days of our Lives," ABC's "General Hospital" and CBS' "The Young and the Restless" are set to duke it out when the ceremony takes place on Saturday, February 1, 2014 at simultaneous ceremonies in Los Angeles and New York.
Nominees Breakdown:
Days of Our Lives – Written by Lorraine Broderick, David Cherrill, Carolyn Culliton, Richard Culliton, Rick Draughon, Christopher Dunn, Janet Iacobuzio, David A. Levinson, Ryan Quan, Dave Ryan, Melissa Salmons, and Christopher J. Whitesell; NBC
General Hospital – Written by Michelle Altman, Ron Carlivati, Anna Theresa Cascio, Suzanne Flynn, Kate Hall, Elizabeth Korte, Daniel James O'Connor, Jean Passanante, Elizabeth Page, Katherine Schock, Scott Sickles, and Chris Van Etten; ABC
The Young and the Restless – Associate Head Writers: Shelly Altman, Tracey Thomson, Written by Amanda Beall, Jeff Beldner, Brent Boyd, Susan Dansby, Janice Ferri Esser, Jay Gibson, Beth Milstein, Lisa Seidman, Natalie Minardi Slater, Anne Schoettle, Linda Schreiber, and Teresa Zimmerman; CBS
Noteworthy Information:
This award season, the WGA has changed its awards eligibility and submission guidelines for television and new media categories, as well as added a new Quiz & Audience Participation writing award. The new guidelines permit new media series to compete with TV series in select script and series categories. Specific changes to Writers Guild Awards rules include:

· Both the Original and Adapted New Media categories remain intact but are limited to programs 15 minutes or less in length and will now be referred to as Short Form New Media – Original and Short Form New Media – Adapted. The "adapted" category is open to new media programs based on any source material, whether a TV series, motion picture, or written work.

· All programs over 15 minutes in length compete in existing TV categories (i.e., overall series, episodic drama, episodic comedy, etc.), which have been expanded to encompass made-for new media programming.

· All daytime serials will compete in the Daytime Drama category, which has also been broadened to include made-for new media programming.

· The WGA's three series awards categories – Drama, Comedy, and New Series – will be open to all programs over 15 minutes and under one hour in duration, regardless of the platform for which they were created.

The WGA's new Quiz & Audience Participation award category covers programming that customarily involves the writing of questions and answers, as well as other material (i.e., quizzes, stunts, host copy, et al.). Scripts submitted for awards consideration must have been written under a WGA collective bargaining agreement.

The Writers Guild Awards honor outstanding writing in film, television, new media, videogames, news, radio, promotional, and graphic animation categories. The awards will be presented jointly at simultaneous ceremonies held on Saturday, February 1, 2014, in Los Angeles at the JW Marriott L.A. LIVE and in New York City at the Edison Ballroom.

For more information about the 2014 Writers Guild Awards, submission process, guidelines, or official entry forms, please visit www.wga.org or www.wgaeast.org.