OWN Ratings Revealed: Are 'AMC' and 'OLTL' Soaring or Falling Flat?
The OnLine Network/TOLN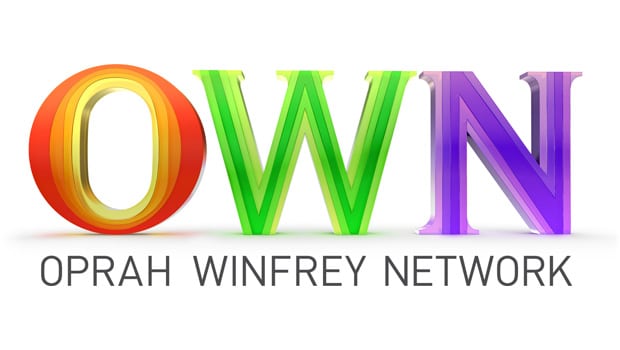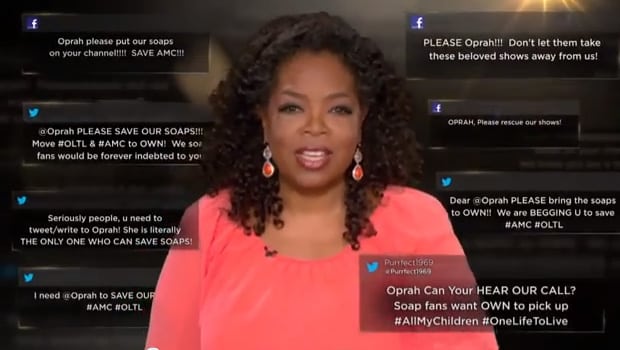 Soap fans were thrilled when Oprah Winfrey's network, OWN: Oprah Winfrey Network, announced that it would be airing a summer soap opera fling in which the first 40 episodes of the online soaps "All My Children" and "One Life to Live" would broadcast over a 10 week period. And with the possibility of the network picking up both shows permanently if the ratings are high, a lot is on the line when it comes to those numbers! So just how did the sudsers perform?
TV Media Insights just released the ratings for the first week, so you can see for yourself!
Asterisk (*) indicates new episode to OWN
ALL MY CHILDREN
* Mon July 15 12:30PM 0.1 HH, 144,000 total viewers
* Mon July 15 12:30PM 0.0 HH, 154,000 total viewers
* Mon July 15 1:00PM 0.1 HH, 152,000 total viewers
Mon July 15 1:30PM 0.1 HH, 129,000 total viewers
Tue July 16 12:00PM 0.1 HH, 101,000 total viewers
Tue July 16 12:30PM 0.0 HH, 38,000 total viewers
* Tue July 16 1:00PM 0.1 HH, 84,000 total viewers
Tue July 16 1:30PM 0.1 HH, 61,000 total viewers
Wed July 17 12:00PM 0.1 HH, 66,000 total viewers
Wed July 17 12:30PM 0.0 HH, 24,000 total viewers
* Wed July 17 1:00PM 0.1 HH, 73,000 total viewers
Wed July 17 1:30PM 0.0 HH, 40,000 total viewers
Thu July 18 12:00PM 0.1 HH, 52,000 total viewers
Thu July 18 12:30PM 0.0 HH, 46,000 total viewers
* Thu July 18 1:00PM 0.1 HH, 138,000 total viewers
Thu July 18 1:30PM 0.1 HH, 62,000 total viewers
Fri July 19 12:00PM 0.1 HH, 78,000 total viewers
Fri July 19 12:30PM 0.0 HH, 54,000 total viewers
Fri July 19 1:00PM 0.1 HH, 105,000 total viewers
Fri July 19 1:30PM 0.1 HH, 106,000 total viewers
ONE LIFE TO LIVE
* Mon July 15 2:00PM 0.1 HH, 123,000 total viewers
* Mon July 15 2:30PM 0.1 HH, 102,000 total viewers
* Mon July 15 3:00PM 0.1 HH, 103,000 total viewers
Mon July 15 3:30PM 0.1 HH, 66,000 total viewers
Tue July 16 2:00PM 0.1 HH, 55,000 total viewers
Tue July 16 2:30PM 0.1 HH, 54,000 total viewers
* Tue July 16 3:00PM 0.1 HH, 66,000 total viewers
Tue July 16 3:30PM 0.0 HH, 38,000 total viewers
Wed July 17 2:00PM 0.0 HH, 18,000 total viewers
Wed July 17 2:30PM 0.0 HH, 47,000 total viewers
* Wed July 17 3:00PM 0.1 HH, 136,000 total viewers
Wed July 17 3:30PM 0.1 HH, 109,000 total viewers
Thu July 18 2:00PM 0.0 HH, 32,000 total viewers
Thu July 18 2:30PM 0.0 HH, 26,000 total viewers
* Thu July 18 3:00PM 0.1 HH, 150,000 total viewers
Thu July 18 3:30PM 0.0 HH, 44,000 total viewers
Fri July 19 2:00PM 0.0 HH, 50,000 total viewers
Fri July 19 2:30PM 0.0 HH, 25,000 total viewers
Fri July 19 3:00PM 0.1 HH, 93,000 total viewers
Fri July 19 3:30PM 0.1 HH, 118,000 total viewers
Comparative data from previous weeks on OWN
July 8-12, 2013 12-2 PM: 84,800 viewers
July 8-12, 2013 3-4 PM: 145,200 viewers
June 25-29, 2013 12-2 PM (includes movie on June 27 12-2:30 PM): 106,800 viewers
June 25-29, 2013 3-4 PM (includes program on June 29 2:30-3:30 PM: 113,200 viewers

HH: Household rating. A 1.0 household rating is equivalent to 1 percent of all U.S. T.V. households.
All Times Eastern & Pacific
Source: Nielsen Media Research