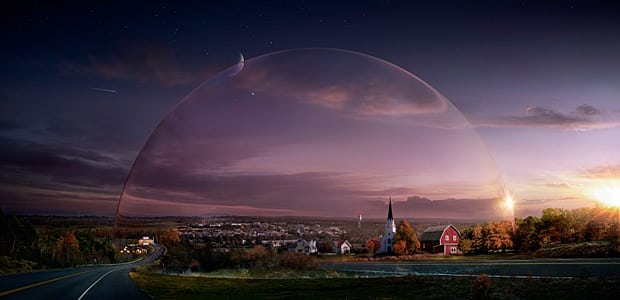 CBS has renewed "Under the Dome," the summers most watched series in viewers and key sales demos, for a second season. Based on the Stephen King novel of the same name, "Dome" follows a small town suddenly sealed off from the rest of the world by an enormous transparent dome. The citizens must now deal with ways to survive amid post-apocalyptic conditions, while seeking to find answers to what the dome is and why they're all stuck in it and when they might get out (not likely anytime soon with the renewal).
"We're excited to tell more stories about the mystery of the dome and the secrets in Chester's Mill, and are thrilled to have the master storyteller himself, Stephen King, tell the first one of next season," said Nina Tassler, President, CBS Entertainment while announcing the news. King will write the premiere episode for season 2, which will launch in Summer 2014.
"Under the Dome" is averaging 13.84 million viewers, 3.5/10 in adults 18-49 and 4.8/12 in adults 25-54 in its Monday at 10:00 PM ET/PT timeslot. In addition to impressive live plus same day ratings on CBS, the series has also seen significant additional viewing on DVR playback, video-on-demand and online streaming – including Amazon's Prime Instant Video, which provides exclusive online subscription streaming four days after the broadcast on CBS. Amazon says that since the show's launch, "Under the Dome" has been watched by more customers than any other series on the service.
"Dome" stars Mike Vogel as Dale "Barbie" Barbara, Rachelle Lefevre as Julia Shumway,Dean Norris as ames "Big Jim" Rennie, Natalie Martinez as Deputy Linda, Britt Robertson as Angie,  Alex Koch as Junior, Colin Ford as Joe,Nicholas Strong as Phil Bushey, Jolene Purdy as Dodee, and Aisha Hinds as Carolyn Hill.
The series is produced by CBS Television Studios in association Amblin Television. Neal Baer, Stephen King, Justin Falvey, Darryl Frank, Stacey Snider, Jack Bender and Brian K. Vaughan, who wrote the television adaptation, are executive producers.