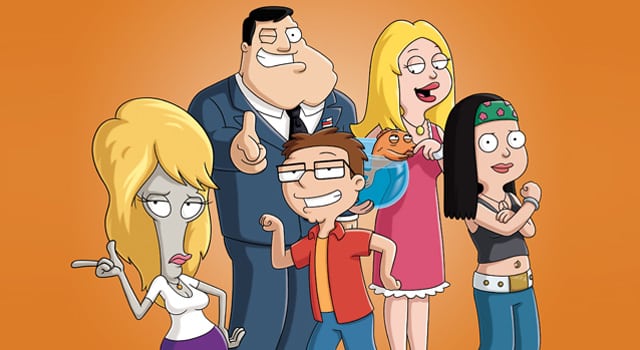 TBS and Twentieth Century Fox Television have announced that animated comedic series "American Dad!" will be moving to the cable network after 10 seasons on FOX. "Dad," created by Seth MacFarlane, Mike Barker and Matt Weitzman, joins the TBS primetime lineup in late 2014 with its 11th season consisting of 15 episodes. Encore episodes of each episode with air on Adult Swim after their initial airings on TBS. The 10th (and final) season on FOX premieres Sunday, September 29.
"'American Dad!' is a great fit for TBS, a favorite of comedy fans who like smart, irreverent humor with ample doses of biting wit and skewering satire," said Michael Wright, president, head of programming for TBS, TNT and Turner Classic Movies (TCM). "We look forward to welcoming Seth MacFarlane and the rest of his team as they bring this iconic show to TBS."
"'American Dad!' is a brilliantly inventive series, and TBS's desire to platform new episodes demonstrates the enduring power of great and compelling content," commented Twentieth Century Fox TV Chairmen Gary Newman and Dana Walden. "Seth, Mike and Matt have created an incredibly rich world of unique characters, and we couldn't be happier that they will be able to continue to tell their trademark brand of subversive, hilarious stories to their millions of fans."
TBS currently airs "American Dad!" reruns weekdays at 1:00 and 1:30 PM ET/PT. Adult Swim presents reruns of the show Tuesday-Friday at 10:00 PM ET/PT, Monday-Friday at 10:30 PM ET/PT and Saturdays at 9:30 PM ET/PT.