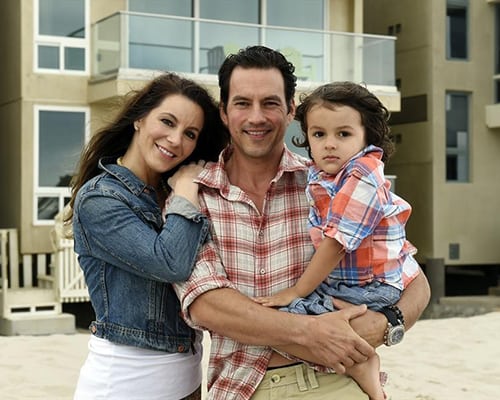 Soap operas often feature couples who eventually trade partners within their myriad of storylines over the years, so Tyler Christopher (Nikolas Cassadine, "General Hospital") and Ronn Moss (ex-Ridge Forrester, "The Bold and the Beautiful") should have no trouble with their latest challenge: They'll be appearing on tonight's edition of ABC's "Celebrity Wife Swap," where their wives will trade households, lifestyles and children for an entire week!
Though Christopher and Moss have experience with partner swapping (onscreen as their soap opera alter egos, of course), their wives —  Brienne and Devin, respectively — are in for quite a shock! Says the official press release: "Tyler lives in Malibu, CA with his wife Brienne and their son Greysun (4). Tyler is a hands-on dad who likes to spend time with his family. Tyler and Brienne are 'outdoorsy' people who enjoy exercising and spending numerous hours at the beach. The family also likes to eat healthy with Tyler as head chef in the kitchen, where he weighs every food item the family plans to eat and uses an app to consider the impact of the calories and nutrition on all of them.  Greysun is a very picky eater who doesn't like most foods, causing Tyler and Brianne some frustration when it comes to meal time.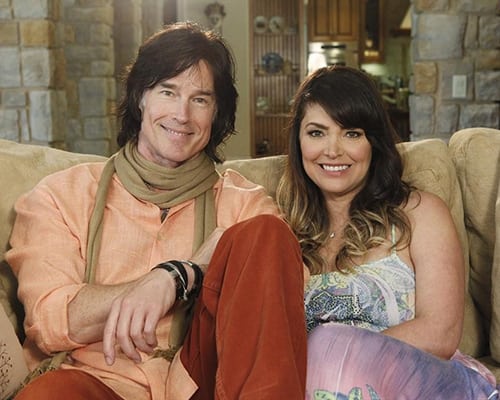 "Ronn lives outside Hollywood, CA with his wife Devin. The couple loves to entertain and often hosts friends for formal dinner parties that Devin oversees from start to finish. Ronn and Devin are very romantic and love to show public displays of affection. Ronn also enjoys spoiling his wife and delivers his special signature coffee drink 'The Ronnuccino,' shirtless every morning.
"When Brienne arrives at the Moss estate she is overwhelmed with the size and lavish nature of their home while Devin is surprised by the modest size of the Christopher's beach house, but even more so, she is distressed about sand in the house and on the furniture. Not a lover of the outdoors, Devin soon learns that she will be heading to the beach with Tyler and Greysun for the afternoon.  During the swap, Devin finds herself taking care of an independent toddler whom she feels is in need of some table manners and hires an expert to assist. While back at Ronn's home, Brienne learns that during the first night of the swap she will be hosting a dinner party for an Italian director and his friends.  Completely out of her comfort zone in the kitchen, Brienne is taxed with cooking an Italian dinner and overseeing the party creating some tension in the kitchen.
"When it's time for the women to change things up and set new household rules, they are ready.  Devin decides Tyler and his family should have more fun in the kitchen and stops counting calories and gets Greysun to help out with preparing dinner. Meanwhile, Brienne wants to get Ronn outside more and gets him on a tandem bike for an afternoon ride together."
Says Moss' wife, Devin, via a blog post: "I know the show will be quite funny given the things I made Tyler Christopher do during the rule changes. And I know what Brienne Christopher did with my hubby, so the only thing that can spell to me is sheer entertainment. In fact, Ronn tweets to Tyler now, 'Go ahead take my wife anytime you want, just make sure I get her back from time to time.'
"I'm not sure if Tyler has continued any of my rule changes," she continues. "But I know I had fun stepping into Brie's shoes for those few days and I think she had just as much fun stepping into mine. However, I'm not sure how much fun it was for our husbands with what we put them through, but hey that's marriage right? One thing's for certain, Brie got one of my delicious morning ronnuccinos shirtless! I think it made her blush a bit from the previews I've seen. Does that make me jealous? Not one bit, because what til you see what I got from her hubby? Thank God Brie had a great sense of humor because I think I would be in big trouble or then again she may be thanking me because of the things I taught him?"
Tune into ABC's "Celebrity Wife Swap" tonight, Tuesday, July 22, at 10PM ET to catch all of the fun!