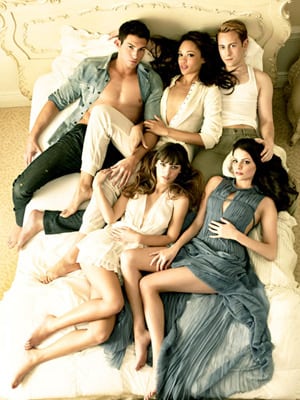 Fans of "All My Children" and "One Life to Live" have learned to adapt to the dramatic twists and turns hitting their favorite returning "anytime" soaps, only they've been adapting more to the behind the scenes "drama" than they have been with what's happening on screen. First it was the episode reduction (two episodes per week for each show instead of the previously scheduled four), then word FX Canada had dropped both shows from its lineup as a result of the episode reduction, and most recently word that head writers for both shows were released from their contracts and replaced with their script writers. Now, according to TheWrap, the latest drama is based on an apparent labor dispute between Prospect Park and I.A.T.S.E. (International Alliance of Theatrical and Stage Employees)/Local 52, the union representing stage workers for "AMC."
In TheWrap's reporting, the publication indicates that Prospect Park is alleged to have gone over budget on certain episodes filmed for "AMC," which as a result has violated the labor agreement between the production company and the union.
"When Prospect Park revived the canceled ABC program for the web this year, it hammered out a deal with the union that allowed it to pay members less than the standard day rate as long as it did not spend more than $125,000 per episode," the site stated. They added, "The union believes that on certain episodes, 'All My Children' may have more than doubled that figure. A spokeswoman for Prospect Park declined to comment on any discussions with IATSE but was adamant that the budget of each episode was well below $100,000."
It is understood that if the union finds any wrongdoing on Prospect Park's part, the company will be forced to pay "tens of thousands of dollars in back pay to union members. It also may mean that Prospect Park will have to shoulder additional costs, such as travel expenses for crew members, that it was able to forgo as a result of its reduced budget."
"They're going to owe all these people a ton of money if they messed up," a source for TheWrap is quoted as saying.
For more on the story, click here.