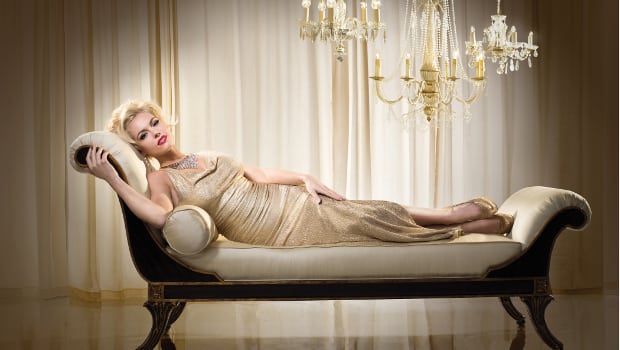 The turbulent life and times of Anna Nicole Smith are set to play out onscreen yet again in an upcoming Lifetime telefilm called "Anna Nicole," but this time, "The Bold and the Beautiful's" Agnes Bruckner (ex-Bridget Forrester) will be in the (super high-heeled) shoes of the controversial public figure.
The 27-year-old actress, who's also know for her roles on "Private Practice" and "24," admits that taking on the role of the vivacious vixen was probably one of the more challenging things she's ever done. "I was terrified; I had anxiety attacks before we started," she recalls. "I had about two weeks to do research… and it was such a challenging role for me. I've never really played a character like this before, so I really just had to step back and tell myself, 'It's going to be okay.'"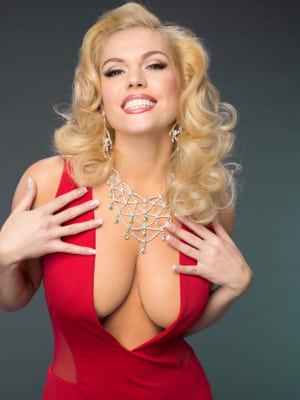 Fortunately, the whole process of transforming into Anna — which included bleaching her hair, wearing prosthetic breasts and piling on more makeup than she's ever worn before — helped her feel comfortable in the role. "After we started working with the makeup and hair team and wardrobe, and we actually saw what I was going to look like, and I worked with a voice coach… and all of these things kind came together, it really eased me completely, because we really found her."
Of course, Bruckner admits that her "B&B" experience also played a small part in prepping her to take on such an iconic persona! "I was only 11 years old, and being on a soap opera, especially at such a young age for me, was basically a very important acting class, just because there were so many elements of working with different directors, memorizing your lines, working with different actors, really learning how to act on a set," she says. "So I've taken all of those things with me, and it has definitely stayed with me."
And as it turns out, the heartbreaking real-life story of Anna Nicole has stayed with the actress, as well. "The funny thing about this character and this project for me was I did so much research on Anna, about her family and her relationships with her family and just how she didn't have a support system…. and it made me realize how fortunate I am to have family that cares not only about my career, but also me as a person and my health and happiness," she explains. "So I really took that away. And also what inspired me so much about her, I looked at her in awe over her ability to make people smile…She was so full of life and always smiling and laughing. She loved life. There was this light inside of her that was really beautiful."
And it was that part of Anna Nicole — rather than the controversial "crazy" part of the actress and Playboy model — that Bruckner wanted to show in the biopic film. "That was one of my biggest concerns before signing on, is that I didn't want to play her as a caricature and just show people the hot mess side of Anna Nicole," she says. "I never met Anna Nicole, so I don't know how she was behind the camera, but I kind of had to fill in pieces from the research I did, and I think that deep down, she was human, and we all make mistakes and we grow up differently and have different relationships with our families and stuff like that. So I really wanted to make sure that we made the movie more about that. There are plenty of hot mess moments in the movie, trust me, but we really wanted to make the heart of the movie where she came from, how she grew up, and her relationship with [her son] Danny."
"Anna Nicole," which also stars Martin Landau, Virginia Madsen, Adam Goldberg and Cary Elwes, debuts this Saturday, June 29, at 8:00 PM ET/PT on Lifetime. For more information, check out Lifetime.com.