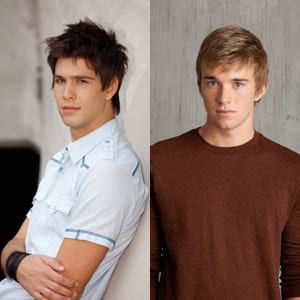 "Days of our Lives" stars Chandler Massey (Will Horton) and Casey Deidrick (Chad DiMera) are on a mission: They're hoping that through music with their band, The Last of Us, they can help raise awareness about cystic fibrosis.
The actors' group, which also includes Stephen Haynes, Mike Gross, Todd Bishop and Josh Bonaparte, has started a Kickstarter page that includes a music video for their song, "Sixty-Five Roses," which conveys the experiences of someone living, loving and dying with the tragic illness.
"Fans of music and fans of creating a better world can unite in rocking out to our upcoming music video!" says the band. "With your help, we can bring our vision to everyone through our music."
Check out the video below and then check out the actors' official Kickstarter page to find out how you can help support their cause.
To hear some of their music: