There was a time not that long ago when "All My Children's" Chrishell Stause (ex-Amanda Dillon) — who's been confirmed as a future cast member on "Days of our Lives" — seemed on top of the world. She and her boyfriend, "Glee" star Matthew Morrison, were as happy as could be and even announced their engagement in 2007. But shortly after the joyous news came out, the pair split. Fans have wondered how a relationship that was seemingly so wonderful could take such a drastic turn for the worse, and now Morrison himself is setting the record straight!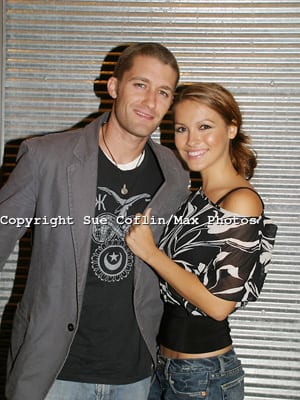 In a new interview with British Cosmopolitan, the California native takes full blame for breaking Stause's heart. "When I was 27, I proposed to my then girlfriend [Stause], but I didn't do it for the right reasons; we'd been going out for a year or so, and I felt under pressure from society," he explains. "I was thinking, 'This is the age when I should probably start having kids so this is what I should do…' But after I did it [proposed], I immediately felt in my heart it wasn't right. My instant thought was 'What did you just do?'"
He consequently called off the engagement, which he admits was a terrible experience. "It was messed up," he recalls. "It turned out to be one of the biggest growing experiences I've had as a man. I'd made this massive decision; I'd promised this girl a life together and I couldn't follow through. It was awful – all I could do was hold up my hands and be like, 'I'm the [bleep]."
Fortunately, Stause recovered from the heartbreak and is now on top of the world, having just landed a gig on "Days of our Lives." We spoke with a representative about her first airdate and character details, but the show rep couldn't reveal anything at this time.