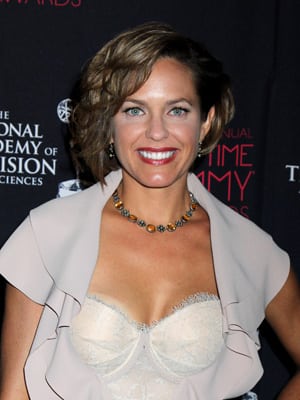 During the Creative Arts Emmy Awards on Friday, June 14, Arianne Zucker (Nicole Walker, "Days of our Lives") gave Soap Opera Network an exclusive in character interview regarding the storyline involving Nicole and Eric Martsolf's Brady Black.
"The relationship between Brady and Nicole is very…I wouldn't say difficult, I think that we have a very loving relationship as friends…unbelievably attracted to each other, but we can not sustain a relationship. However, I think that at the end of the day…I mean physically we belong together, emotionally we're working on that. You're going to see the relationship kinda do something – more than Brady always being like whiny and there for me, which is kind of exciting I think and I think it's exciting for Eric [Martsolf], for his character to be like 'Finally!'"
For more from Zucker, including how she came to wear her beautiful gown, and the battle with Eileen Davidson's Kristen DiMera, click on the play button below.