As previously reported, cast members from CBS' "The Young and the Restless" appeared on yesterday's edition of "Marie." In honor of the soaps 40th anniversary, the Marie Osmond hosted talker paid tribute to the memory of "Y&R" co-creator and head writer, William J. Bell, and highlighted the longest-running feud in daytime soap history – Katherine Chancellor (Jeanne Cooper) and Jill Foster Abbott (Jess Walton).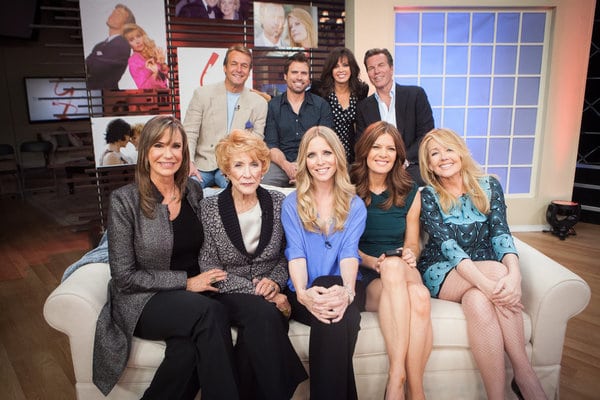 "You have to have interesting stories with a heartbeat to them. Stories viewers can relate to, escape with, and learn from in terms of social issues. I'm a strong believer that we are here to do more than entertain. That we are here to impact on the lives of our audiences," said the late William J. Bell on how soaps help resonate with viewers as read by Osmond, who later asked cast members about their favorite Bill memory as part of a tribute to the their shows creators. As part of the tribute, the talk show aired a video where Bell talked about his daughter Lauralee (Christine Williams) that brought her to tears. Also of note, Jeanne Cooper reveals how Bell saved her life.
See full video below:

"To me, soaps are well written reality," says Osmond of her opinion on how soaps have resonated with audiences while speaking with Cooper and Walton about the rivalry between Katherine and Jill. According to Cooper, she and Walton continue to ask themselves before doing scenes, "What could we do in the confines of the show that makes it real, and keeps it within the show?  What would the audience like to see?" Cooper also noted how she and Walton didn't like how their stunt doubles handled physical scenes, so they both decided to get down and dirty themselves.
When asked on what she thought of portraying the double role of Marge and Katherine on the soap only for the writers to then kill off Marge in 2009, Cooper says, "Well, if I had the liberty, I would have killed off the writers…cause Marge lives! She does! Marge is iconic. This is the second time she came back. [I mean] She has a right to live!"
See full video below: