Earlier today "General Hospital" stars Anthony Geary (Luke Spencer), Genie Francis (Laura Spencer), Kin Shriner (Scott Baldwin), Jason Thompson (Patrick Drake), Kelly Monaco (Sam McCall) and Finola Hughes (Anna Devanne) were joined by executive producer Frank Valentini and head writer Ron Carlivati as they rang The Opening Bell® at the New York Stock Exchange in honor of the shows 50th anniversary, airing today, April 1.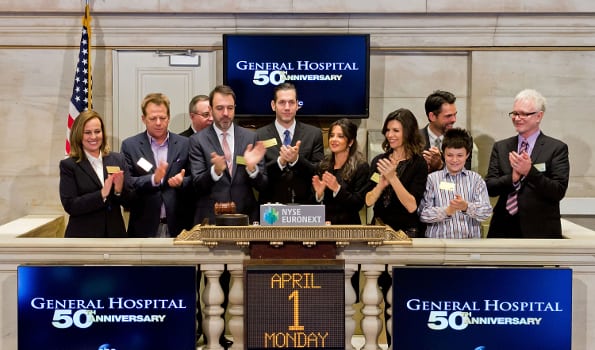 For More Photos: Soap Opera Network on Facebook
via Press Release
On Monday, April 1, Executive Producer Frank Valentini, Head Writer Ron Carlivati, and cast members Tony Geary, Genie Francis, Kin Shriner, Jason Thompson, Kelly Monaco and Finola Hughes of ABC's General Hospital  will visit the New York Stock Exchange and ring The Opening Bell® to celebrate the 50th anniversary of the Emmy-award winning show.

About General Hospital

Named to Time's "Top 100 Television Shows of All Time," "General Hospital" continues its tradition of passion, intrigue and adventure that takes place in the fictional town of Port Charles in upstate New York. The glamour and excitement of those who have come to find their destinies in this familiar seaport town intertwine with the lives, loves and fortunes of beloved, well-known faces. And, as always, love and danger continue to abound on "General Hospital" with contemporary storylines and unforgettable characters.

"General Hospital," the most honored show of the 2012 Daytime Entertainment Emmy Awards, celebrates its golden anniversary on April 1, 2013. Honoring 50 historic years on ABC, "General Hospital" is the longest running American soap opera currently in production and the longest running scripted drama on television currently in production.  Based on the West Coast, the show has aired over 12,000 episodes and has received the prestigious Emmy Award for Outstanding Daytime Drama a record eleven times.

For many years "General Hospital" has worked alongside and been praised by numerous national organizations for elevating public awareness of important health and social issues. Most recently the drama received a 2007 Sentinel for Health Award – given for exemplary portrayals of health issues in TV – for the compelling Patrick HIV scare storyline. In addition, Public Service Announcements were produced – in conjunction with specific storylines – to promote the very important real-life issues of bipolar disorder and tolerance and understanding for gay, lesbian and transgender people. The spots received special recognition from their respective organizations, the former by the Depression and Bipolar Support Alliance and the latter by GLAAD. In 2004 the show won a PRISM Award – given for accurate portrayals of tobacco, drug and alcohol addiction in the media – for the storyline of Courtney's addiction to pain killers. It has also received three SHINE Awards (formerly the Nancy Susan Reynolds Award) for its continued contribution to the awareness of sexual responsibility. The Ryan White Foundation presented its 1996 Ryan's Angels Award to "General Hospital" for the moving and thorough examination of HIV/AIDS through the characters of Robin and Stone. The show was further honored by the American Red Cross for its HIV/AIDS-related storylines and received the Susan G. Komen Foundation Media Award for the story of Monica's experience with breast cancer. The series has also been honored with several other prestigious awards for confronting sexual child abuse, organ donation and other important social issues.

In the 40th Anniversary special edition of TV Guide, "General Hospital" was hailed as the "All-Time Best Daytime Soap." Late cast members Anna Lee (Lila Quartermaine) and John Beradino (Dr. Steve Hardy) received stars on the Hollywood Walk of Fame for their work on the show. "General Hospital" has also won a number of awards from the Directors Guild and the Writers Guild for Outstanding Achievement.

"General Hospital" was created by Frank and Doris Hursley. Frank Valentini is the executive producer.  Ron Carlivati is the head writer.  "General Hospital" airs weekdays at 2:00 p.m., ET /1:00 p.m., PT/CT on the ABC Television Network.