As previously reported, Canadian viewers of "One Life to Live" have finally learned that they won't have to miss a moment of their favorite soap as FX Canada has agreed to carry The OnLine Network produced series (via Prospect Park) beginning with the shows very first episode airing Monday, April 29 at 12:30 PM ET/2:30 PM PT. Recently, the network uploaded a web page for the series along with its own description of the happenings in Llanview.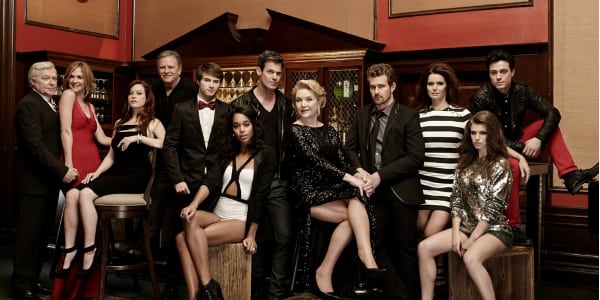 Description
Returning to the fictional town of Llanview, Pennsylvania One Life to Live returns with an edgier and sexier spin filled with action, romance, and comedy, pushing the boundaries of entertainment by exploring cutting edge social issues. In the new episodes, Viki's sexy, young reporter Jeffrey King uncovers a scandal that ends Dorian's senatorial career; danger follows Todd to town in the form of a mysterious and evil organization; and Blair and Cutter's popular new club Shelter places Llanview on the map with the hottest DJ's and singers.

CAST:
MELISSA ARCHER – Natalie Buchanan Banks
KASSIE DEPAIVA – Blair Cramer
ROBERT GORRIE – Matthew Buchanan
LAURA HARRIER – Destiny Evans
ROGER HOWARTH – Todd Manning
JOSH KELLY – Cutter Wentworth
FLORENCIA LOZANO – Tea Delgado
KELLEY MISSAL – Danielle Manning
ERIKA SLEZAK – Victoria Lord Buchanan
HILLARY B. SMITH – Nora Buchanan
ROBIN STRASSER – Dorian Lord
ANDREW TRISCHITTA – Jack Manning
JERRY VERDORN – Clint Buchanan
TUC WATKINS – David Vickers
ROBERT S. WOODS – Bo Buchanan
SHENAZ TREASURY – Rama Patel
In America, fans of "One Life to Live" can watch the show anyhow, anywhere and at anytime via Hulu, Hulu Plus or iTunes beginning Monday, April 29.