As previously reported, Canadian viewers of "All My Children" have finally learned that they won't have to miss a moment of their favorite soap as FX Canada has agreed to carry The OnLine Network produced series (via Prospect Park) beginning with the shows very first episode airing Monday, April 29 at 12:00 PM ET/2:00 PM PT. Recently, the network uploaded a web page for the series along with its own description of the happenings in Pine Valley.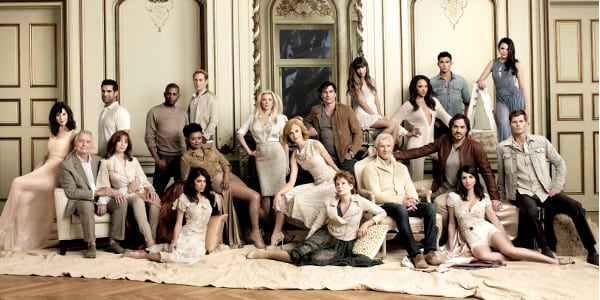 Description
All My Children returns to Pine Valley with love, excitement, and suspense, surrounding the unforgettable Chandler, Cortlandt, Martin and Hubbard families. Heart-wrenching emotional conflicts, surprising and shocking connections, and deeply personal quests for passion and power lead to explosive drama in the new episodes. Experience the triumphs and defeats, the loves and losses from core characters who have inhabited the landscape for decades, along with hot new emerging talent. In the new episodes, JR comes to grips with his past and meets his teenaged son AJ; Pete Cortlandt falls in love with a girl named Celia who has a dark past even she doesn't know about; Angie and Jesse are tested by tragedy and loss; and Bianca's daughter Miranda is determined to forge her own path, separate from her mothers.

CAST:
JULIA BARR – Brooke English
RYAN BITTLE – JR Chandler
DAVID CANARY – Adam Chandler
LINDSAY HARTLEY – Cara Martin
VINCENT IRIZARRY – Dr. David Hayward
FRANCESCA JAMES – Evelyn Johnson
THORSTEN KAYE – Zach Slater
JORDAN LANE PRICE – Celia Fitzgerald
JILL LARSON – Opal Cortlandt
RAY MACDONNELL – Dr. Joe Martin
CADY MCCLAIN – Dixie Cooney
DEBBI MORGAN – Dr. Angela Hubbard
ERIC NELSON – AJ Chandler
EDEN RIEGEL – Bianca Montgomery
HEATHER ROOP – Jane McIntyre
SAL STOWERS – Cassandra Foster
DENYSE TONTZ – Miranda Montgomery
JORDI VILASUSO – Griffin Castillo
DARNELL WILLIAMS – Jesse Hubbard
ROBERT (ROB) SCOTT WILSON – Pete "Petey" Cortlandt
In America, fans of "All My Children" can watch the show anyhow, anywhere and at anytime via Hulu, Hulu Plus or iTunes beginning Monday, April 29.