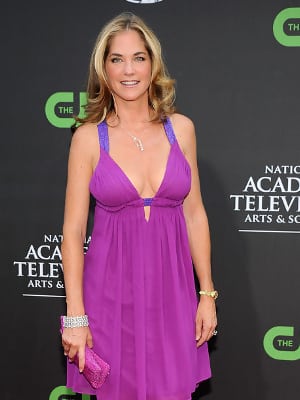 In a new interview with Carolyn Hinsey's "Tainted Dreams" blog, Kassie DePavia reveals her excitement on the return of "One Life to Live" and previews fans on what they can expect from the show now that it is being produced by Prospect Park.
"My whole body just shook with happiness. I am so glad to be doing this again. There is a really good energy there. So many of the people that I had grown to love at 'One Life to Live' are there, and I had a complete flashback to P&G [Procter & Gamble] with all the people working there that I know from 'Guiding Light,'" says DePavia, who began her daytime career on "GL" as Chelsea Reardon from 1986-1991 before taking over the role of Blair on "One Life" in 1993.
Following ABC's cancellation of "One Life to Live," which aired its final episode on the network in January 2012, DePaiva has appeared as Blair in several episodes of fellow soap "General Hospital" alongside several of her former "One Life" co-stars. But how will events in Port Charles affect the residents of Llanview, which is said to be picking up right where the soap left off over a year ago?
DePavia tells Hinsey that "They're addressing what happened at the end of 'One Life to Live,' not what went on in Port Charles [on 'GH']. There's a Tomas reference, then we pick up with her relationship with Todd. Roger [Howarth] is there. Todd comes back to town because of a family issue, and Blair and Todd pick up where they left off.."
As for Todd's Port Charles relationship with Carly (Laura Wright), "We ['OLTL'] don't mention Carly, but I only have this week's scripts.  I would love for that to happen. What I am playing is, 'I love Todd but I know he has slept with Carly.' That has not been addressed, but I'm playing it. Blair and Todd have always been so terribly jealous of any other relationship, so it's embryonic. I hope they address that Blair knows:  'Why don't you go home to your blah-blah girlfriend, Todd?!'"
And when asked if Trevor St. John, whose alter ego Victor Lord, Jr. was shown being held hostage by Llanview's resident psycho Allison Perkins (Barbara Garrick) in the final scene of "OLTL" on ABC, was also returning to the show, DePaiva hinted that "We've got to address something there – that was the last shot of the episode!  That's all I'm going to say."
You can read DePaiva's full interview by clicking here.
"One Life to Live" and "All My Children" debut on Hulu, Hulu Plus, and iTunes on Monday, April 29.