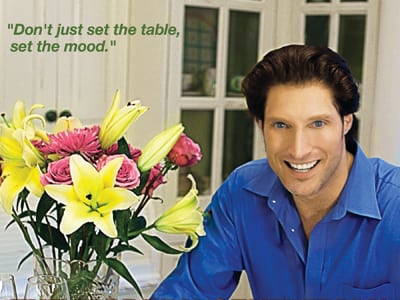 Beginning Wednesday, February 6, fans of "General Hospital's" Sean Kanan (AJ Quartermaine) can see/hear the actor in a different light as the daytime star has signed on with UBN Radio Network to launch a new radio show, "Kanan's Rules," with wife, Michele. The show will air live in both audio and streaming video via http://www.ubnradio.com from the Sunset Gower Studios in Hollywood.
The show will provide listeners/viewers with a look into the life of the actor and his wife as the two share one on one conversations, stories, opinions, and witty banter. The show will "reveal the trials, tribulations, obstacles, achievements and triumphs of the couple's day-to-day relationship. Almost no topic will be off limits as they discuss careers, romance, politics, religion, current events, the latest trends and the challenges and joys that come with raising a blended family in Hollywood," reads its description. Part of the show is expected to include lively discussion with celebrity guests and much more.
"Five years ago I was a bachelor who lived alone in the Hollywood Hills. I came and went and didn't answer to anyone. Now I am living with a wife, 5 kids and 2 dogs. That alone provides enough topics to last the next ten years!" said Kanan. "We make a great team. Living with Sean is like a carnival ride sometimes because I never know where we're gonna be or how we will get stuff done but amid all of our shenanigans, we manage to excel at our careers and more importantly, at being a family," Michele added.
"Kanan's Rules" will air Wednesdays from 8:00 PM PT – 9:00 PM PT beginning February 6. Archived episodes will be made available via iTunes, Stitcher & TuneIn.
For more information, head on over to http://www.ubnradio.com.