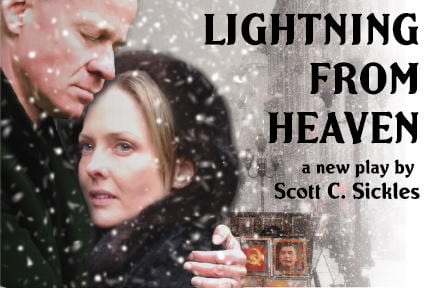 Described as the love story behind  "Doctor Zhivago," the award-winning play "Lightning from Heaven," written by "General Hospital" script writer Scott Sickles, will open for a limited engagement at New York City's WorkShop Theater beginning Thursday, February 14th.
The back story for the play takes place before the classic novel and subsequent film, with poet Boris Pasternak, his nurse and mistress Olga Ivinskaya, and the attempt by the Soviet government to silence them and their story. After Psternak's death in 1960 Olga is arrested by the KGB.  The play follows Olga's interrogation and trial, while showcasing her and her former lover's attempts to publish "Doctor Zhivago" in the face of stiff resistance from the brutal Soviet regime.
Sickles says he feels the play's compelling story will leave daytime soap fans "moved, inspired and wanting to know what happens next."
Earlier this month, Smith & Kraus selected one of the speeches from "Lightning from Heaven" to include in the Best Men's Stage Monologues of 2013.  And in 1999, Sickles was awarded the Beverly Hills Theater Guild Julie Harris Playwriting Award for "Lightning from Heaven."

The cast includes members of the WorkShop Theater: Mary Ruth Baggott as Olga's daughter, Irina, Mick Bleyer* as Vladilen Alexanochkin, Ethan Cadoff* as Semionov, Jed Dickson* as Boris Pasternak, Bob Manus* as Kosachevski, David M. Mead* as the judge, Kari Swenson Riely* as Olga Ivinskaya, Michael Selkirk* as Giangiacomo Feltrinelli, Christine Verleny as Pasternak's wife, Zinaida, and Dustye Winniford* as the prosecutor (*Member, Actors' Equity Association).
Crew members include: production features scenic design by Craig Napoliello, costume coordination by Joanie Schumacher, and lighting design by Diana Duecker. Ryan Lee is the sound designer, makeup is by Jade DaRu, Jason Healy is the stage manager, and Katie Braden is the Artistic Associate. It is directed by Thomas Coté.  "Lightning from Heaven" is a Main Stage Production in the Main Stage Theater.
Open night for the public is Saturday, February 16th at 8:00 pm on the Main Stage at the WorkShop Theater, located at 312 West 36th Street (4th Floor East), between 8th and 9th Avenues, New York City, New York 10018. The production will run through Saturday, March 9th, with the performance schedule consisting of Thursdays at 7 pm, Fridays at 8 pm, Saturdays at 8 pm, and Sundays at 3 pm, along with an additional performance on Monday, March 7th at 7pm.  Performances for the press include Thursday, February 14, at 8 pm; Friday, February 15, at 8 pm; Saturday, February 16, at 3 pm; Saturday, February 16, at 8 pm.  All times are Eastern.
"Lightning from Heaven" has a run-time of 2 1/2 hours, including a 10-minute intermission.  Note: Latecomers will be seated at the discretion of management.
Click here to purchase tickets $18 ($15 for students and seniors).  Tickets may also be purchased at the theater 30 minutes prior to each performance.  You can also visit the WorkShop Theater's website for more information on "Lightning from Heaven" and other stage productions.
Previous productions of the play have been performed at the Red Barn Theatre near Pittsburgh, PA, in 1999, directed by William C. Kovacsik; and at The Hartt School in West Hartford, CT, directed by Michael Montel.
His plays have been "performed across the United Stares, as well as in Canada, Australia, the UK, and Lebanon. Smith & Kraus included his full-length comedy Intellectuals in New Playwrights: The Best Plays of 2007," states a press release.
"Other published works include the short plays murmurs (Samuel French) and Beautiful Noises (also S&K). In addition to serving as Artistic Director of the WorkShop, Mr. Sickles has received three WGA Award nominations with the writing team of 'One Life to Live,' and currently is a scriptwriter for 'General Hospital.'"  Sickles joined the "GH" writing staff in February 2012 after serving in the same position on "OLTL" 2009-2011.