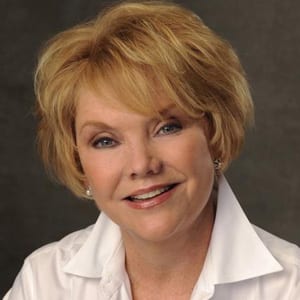 Although her name was among fifteen "One Life" cast members listed in a press release last week from Prospect Park as joining the online version of "OLTL," Erika Slezak (Viki) confirmed the news today with a statement on her official website. Telling fans that she is "pleased" to join the upcoming online version of the show when production begins "near the middle of March," the six-time Daytime Emmy winner says the new show will be "an exciting and groundbreaking adventure" and that she hopes fans will tune in.
You may remember that Slezak was one of 13 "OLTL" stars who signed on with Prospect Park's previous attempt to revive "One Life to Live" just over a year ago saying in September 2011 that she was "very happy to be going on with 'OLTL' and looking forward to working with our new production company, Prospect Park. It's very exciting to be moving into a new medium and I sincerely hope that our wonderful viewers will follow us there." However, just two months later, after Prospect Park announced the suspension of their plans to take "One Life to Live" and sister soap "All My Children" to the Internet, Slezak stated in her online newsletter that "I feel that they were overly ambitious, because they really had no sense of what it takes to produce a daytime drama, 5 days a week, fifty two weeks a year."
"One Life's" longest-running cast member, Slezak plays the show's only remaining original character, joining the show on March 17, 1971.  She won Daytime Emmys for her portrayal of Victoria Lord in 1984, 1986, 1992, 1995, 1996, and 2005.  In 200, she also earned a Soap Opera Digest Award for Best Couple, which she shares with former co-star and on-screen husband Mark Derwin (ex-Ben Davidson).  Slezak has also earned a number of other awards and honors during her time on "OLTL," including the CDC's "Sentinel for Health Award" in 2000 for Viki's breast cancer storyline.  The show commemorated her 40th anniversary with a surprise party and special episode in 2011.
Here is Erika's full statement from her website:
I am pleased to officially announce that, pending the final contract, I am joining the revival of One Life to Live which will be produced by Prospect Park and aired on Hulu and iTunes on the internet. We expect to begin production near the middle of March and the air dates are yet to be announced. This will be an exciting and groundbreaking adventure and we hope that you will all join us as we bring back all the characters you loved and possibly some new ones. I will let you all know when a firm air date is announced.