While millions of fans may love the tantalizing tales of the Forrester's and the Logan's on CBS' "The Bold and the Beautiful," many of them may not think twice about what it takes to make the world's most watched daytime soap opera come alive each and every weekday. In a new book released earlier this month by Sourcebooks, entitled "Becoming Bold & Beautiful: 25 Years of Making the World's Most Popular Daytime Soap Opera" with foreword by the soaps "core four" Susan Flannery, John McCook, Ronn Moss and Katherine Kelly Lang, the hardcover release provides detailed insight from the 1987 debut year of the soap to present day. Included throughout are over 200 photographs featuring cast and crew members on Stage 31 of CBS Television City in Los Angeles, and on location in Malibu, Cabo San Lucas, and Aspen.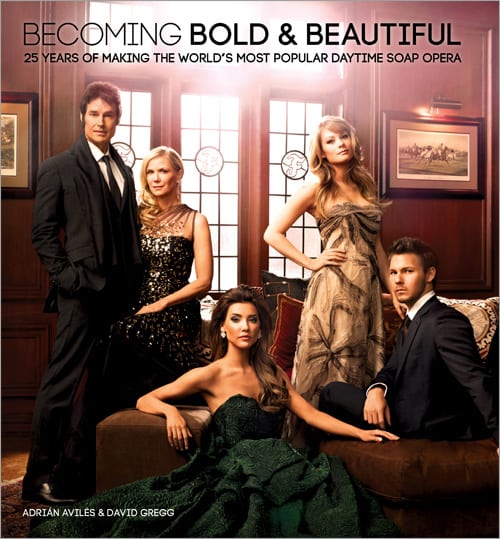 The table of contents includes the aforementioned foreword by the "core four" and an introduction by executive producer and head writer Bradley P. Bell. Photos made available courtesy of Elizabeth Annas, Monty Brinton, Ray Christian, Scott Downie, Jeffrey Fiterman, Griff Griffin, Cliff Lipson, Jon McKee, Danya Morrison, Geraldine Overton, John Paschal, Harold Smith, Sean Smith, Art Streiber and John Zak. Text and Photo Editing provided by David Gregg ("B&B's" VP of Marketing, Promotions and Publicity, International Television), with Creative Direction by Adrian Avilés. The 25th anniversary cast photo was taken by Art Streiber.
Foreword by The Core Four

It was such a surprise for the four of us to realize how time has flown and how everything has changed (especially us), as we viewed the photos of the past twenty-five years. It seems like another lifetime ago when we first walked through the doors at CBS Television City to shoot our first episode of The Bold and the Beautiful. We will have filmed over six thousand episodes by the time this book goes to print. It's amazing!

From the beginning, we have had that rare opportunity of collaboration with truly talented and creatively generous writers. The co-creators Bill and Lee Bell, and now their son Brad, allowed us to breathe life into the characters of Eric, Stephanie, Brooke, and Ridge. What a creative and fulfilling time this has been for us.

Now we find ourselves a quarter of a century later, still going strong, still successful, even with the recent shifts in the worldwide television landscape. We like to think we have survived because we have a solid foundation. We know all the layers and complexities of the characters by heart, just as all of you do, having followed us since the beginning.

We thought you might want to take the sentimental journey with us. We hope you'll enjoy a glimpse into our world backstage, seeing the work that enables us to make a show into "magic."

We hope you will join us in reliving our lives and our characters all over again.

Bon voyage!

Susan Flannery, Katherine Kelly Lang, John McCook, and Ronn Moss
"The Bold and the Beautiful" is viewed by over 35 million viewers each weekday in more than 100 countries.
To purchase the book, head on over to Amazon.com or Sourcebooks.com.