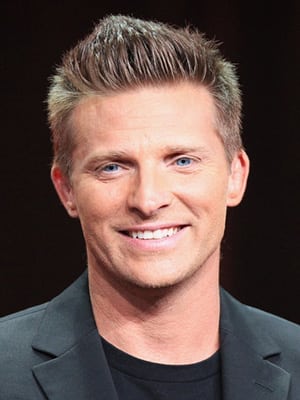 TV Guide's Michael Logan pulls off another exclusive! In an interview with Steve Burton, the actor reveals that he has in fact decided to leave ABC's "General Hospital" after two decades at the drama series. First joining the cast in 1991, Burton had portrayed the role of Jason Quartermaine turned Morgan. He left the series in 2000, but returned in 2002, and has remained at the show ever since. He's also appeared on the "GH" spinoff, "General Hospital: Night Shift," during the SOAPnet original series' first season.
According to Burton, it was his contract coming up and his desire to move his family to Tennessee that resulted in him making this important life changing decision. "I've been through 21 years of ups and downs with 'GH' — regime changes, cast and crew changes, budget cuts, shakeups of one kind or another, and it's been nothing but a huge positive in my life and for my family. I have no complaints, no negative feelings at all. But it's time to go. I'm going to take some time off and do nothing but relax, just enjoy life a little bit with my wife and kids," said Burton to TV Guide.
The actor also revealed that his next career move will be working on a project with James Franco (ex-Franco) and Jill Farren Phelps (former executive producer of "GH," now at the helm of "Y&R"). "Jill went off and did that telenovela 'Hollywood Heights' [at Nickelodeon] and James did a day's work there. Suddenly he decides he wants to make one of his own novelas through his production company and we're like, 'Huh?' So the three of us collaborated on an idea and came up with a really good one. Jill will EP it, I'll produce and star in it and so will James. We'll be able to get a lot of great cameos and guest stars because of James' connections. It'll be a fun show to do."
As for rumors of him possibly joining "Y&R," Burton says, "Jill is one of my dearest friends. [Laughs] I'm never going to say never because , as soon as I do, I'll be popping up over there! Here's the thing: As cool as it was to know I had a nice, cushy place to go every day with 'GH,' I think it's going to be just as cool to not have a nice, cushy place to go every day. I like not knowing what's next for a change. I'm jumping off a cliff in a total leap of faith."
Burton is expected to complete filming at "General Hospital" on Tuesday, September 25, but he has informed the show that, if necessary, he would be willing to stay on little longer to help wrap his characters storyline. Whatever the case may be, look for the actor to air through at least the end of October or sometime in November.