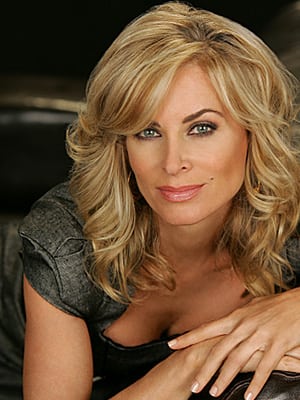 Eileen Davidson is returning to NBC's "Days of our Lives" after Sony Pictures Television opted to transition her off of their soap "The Young and the Restless" and onto "DAYS" to re-create the magic of her character Kristen DiMera. Sony Pictures Television distributes "DAYS," which is owned by Corday Productions, Inc.
According to a tweet by the actress posted yesterday, Davidson's first airdate as Kristen is set for Thursday, October 11. "I start airing on Oct. 11. AND I CAN'T WAIT!!!!!" the actress said.
Davidson, who originated the role of Ashley Abbott on "Y&R" in 1982 and left in 1988, joined "DAYS" in 1993 and portrayed five characters (sometimes simultaneously) over the course of her five year Emmy nominated run. In addition to Kristen DiMera, Davidson portrayed famously Susan Banks, Sister Mary Moira Banks, Thomas Banks, and Penelope Kent. She returned to "Y&R" in 1999 only to find herself let go from the show in 2007 with her character moving to Los Angeles, which is where we found her for a brief time on CBS' "The Bold and the Beautiful." Davidson returned to "Y&R" in 2008 until her departure this year.