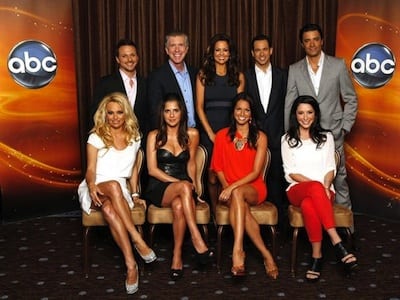 "General Hospital's" Kelly Monaco (Sam McCall) is returning to ABC's "Dancing with the Stars." Monaco was the first winner of the infamous mirror ball trophy and helped launch the competition series into the hit it became. She joins fellow former "Dancing" stars as Kirstie Alley, Shawn Johnson, Drew Lachey, Apolo Anton Ohno, Emmitt Smith, Joey Fatone, Pamela Anderson, Helio Castroneves, Melissa Rycroft, Gilles Marini, and Bristol Palin.
Carson Kressley, Sabrina Bryan, and Kyle Massey are vying for the 13th and final position in the all-star edition of "Dancing with the Stars." Fans are being asked to vote for one of the three as part of a show first being called "Viewers' Choice: All Star." Voting began today, July 27, at 1:30 PM ET/10:30 AM PT via ABC.com/DancingwiththeStars, presented by Diet Pepsi. Fans can logon and cast their votes now through Friday, August 24 at 3:00 PM ET/12:00 PM PT, with the winner announced live on Monday, August 27 during "Good Morning America."
While the cast list has been revealed the network won't say who their dancing partners will be until the Monday, August 13 airing "Good Morning America."
The new season of "Dancing with the Stars" dubbed "Dancing with the Stars: All Stars" begins Monday, September 24 at 8:00 PM ET with the first live results show airing Tuesday, September 25 also beginning at 8:00 PM ET.