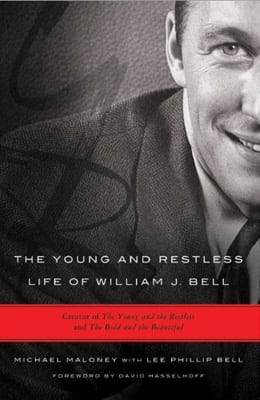 (SoapOperaNetwork.com) — On Friday, June 1, 2012, Source Books (publisher of the recent "Days of our Lives" series of novels and coffee books) has scheduled the hardcover release of "The Young and Restless Life of William J. Bell: Creator of The Young and the Restless and The Bold and the Beautiful," which covers the life and times of one of daytime's most creative minds.
Publisher Description
For the first time fans will be able to discover the true stories behind the creation and growth of the most popular and iconic soap operas of all time, and they'll learn about the man behind their favorite storylines. Filled with dramatic turns, dangerous risks, and an overall devotion to bringing life to the show, this biography will offer fans a backstage pass to the fascinating world of soaps! Bill Bell worked from a love of his characters and his family, and was never afraid to fight for what he knew to be important to both. For any fans of Bill's shows or anyone working on creating dramas, this is an unprecedented look into the life of one of the men who did it best.
The book was co-written by Soaps in Depth contributing editor Michael Maloney and Bell's wife Lee Phillip Bell, with Foreword by former "Y&R" star David Hasselhoff.