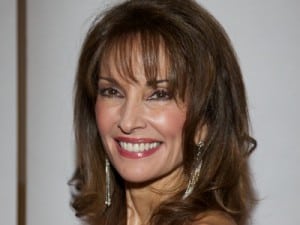 (SoapOperaNetwork.com) — While she holds out great hope for the future of daytime television, the former first lady of the genre, Susan Lucci, is currently busy adding another notch to her full resume. Beginning this fall, fans can see the legend and former star of "All My Children" hosting and narrating a new series, titled "Deadly Affairs," for the cable network Investigation Discovery.
Along with updated encore presentations of some of prime-times most memorable investigation shows, like NBC's "Dateline" and CBS' "48 Hours," Investigation Discovery or ID is known for creating new programming documenting true-life stories of crime and punishment. Some of their more popular original series include "I (Almost) Got Away With It," "Who the (Bleep) Did I Marry?," "Wicked Attraction," and "Deadly Women." Following a similar formula to "Wicked Attraction," according to a press release from the network, "Deadly Affairs" will "explore true stories of romance gone wrong and the crimes of passion that resulted." Noting the often romantic and tragic heritage of daytime television serial storytelling, Lucci calls the seemingly natural partnership "a perfect match." In the past, Lucci has narrated on at least severel occasions in the past including for Lifetime's "Intimate Portrait," the prestigious Candlelight Processional at Epcot, and for her memoir "All My Life." 
"Deadly Affairs" will begin filming in March and is set to debut at the beginning of the 2012 – 2013 fall television season. Investigation Discovery has ordered ten episodes of the series. If you can't wait until fall to see Lucci again, there are no worries ahead for you. Along with airing regularly on the Home Shopping Network (HSN) and on multiple networks with infomercials selling her line of jewelry and products to enhance beauty and fitness, as previously reported, Lucci will guest-star on the new season of "Army Wives." The series' sixth season debuts this spring. Lucci will appear in at least two episodes of the high-rated Lifetime series.