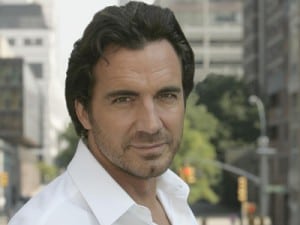 (SoapOperaNetwork.com) — Former "All My Children" leading men Cameron Mathison and Thorsten Kaye are scheduled to help heat up the primetime schedule later this winter. Mathison is scheduled to hit the sheets with one of televisions original housewives on the last season of ABC's "Desperate Housewives." Meanwhile, Kaye will show up on NBC's highly anticipated mid-season replacement, the musical drama "Smash," where his character will turn the temperature up for a brassy and determined Broadway producer going through some rough personal and professional times.
Mathison will appear opposite former "One Life to Live" star Marcia Cross on "Desperate Housewives" this January. In the wake of an unsuccessful suicide attempt, Cross' character, Bree Van de Kamp, will take up an interesting new hobby to mask her personal woes. The fiery red head will begin picking up random men at bars for drinks and hot sex. Mathison will make an enticing contribution to Bree's nasty new habit on Sunday, January 22. Mathison debuted as Ryan Lavery on "AMC" in 1997 and, amongst various other projects, has recently been keeping busy as a correspondent for "Good Morning America."
Last fall, a publicist for the NBC's "Smash" confirmed to Soap Opera Network that, while scripts were still in the middle of being written, Kaye would be portraying the recurring role of a love interest for the character of Eileen Rand on the series. Eileen, played by Academy Award winner ("Prizzi's Honor") Angelica Huston, will be going through a very tense split from her business partner and husband – who both just happen to be the same man, Jerry Rand (Michael Christofer). When recently contacted for an update on Kaye's role we were told there was "nothing further" to add at this time. As per Kaye's official website, look for the actor to make his debut on the seventh original episode of the series which should air in March. Kaye started his daytime career on "One Life to Live" in 1995 and ended it, for the time being, on "AMC" in 2011. "Smash" debuts on Monday, February 6 on NBC.