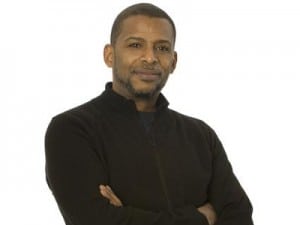 (SoapOperaNetwork.com) — It was recently announced that Darnell Williams would be joining the cast of "The Young and the Restless" in 2012. The two-time Daytime Emmy Award winner becomes the forth "All My Children" actor to land on the high rated CBS daytime dramas since the 41-year old ABC soap went off the air in September 2011. He joins Jacob Young who returned to "The Bold and the Beautiful" last September, and past and future co-stars Debbi Morgan and Melissa Claire Egan.  
Williams long-time co-star, Morgan, currently plays Harmony on "Y&R," the long-time absent mother of Devon (Bryton McClure) on the CBS soap. Paired with Morgan, Williams contributed to forming daytime's first super couple of color on "AMC." Jesse and Angie Hubbard remain, arguably, the most enduring and famous couple of color created on daytime television. This marks the forth soap that Williams and Morgan have appeared on together, ultimately paired with each other each time. Along with the aforementioned soaps, the actors have appeared on "Loving" and 'The City" at the same time. Williams started his daytime career on "AMC" in 1981.
In recent years the number one soap in the nation has taken to hiring – and then in several cases firing – former "AMC" actors at a very high rate. Since 2005, "Y&R" has hired Amelia Heinle (Victoria; ex-Mia, "AMC"), Vincent Irizarry (ex-David, "AMC" and "Y&R"), Elizabeth Hendrickson (Chloe; ex-Maggie, "AMC"), Stacy Haiduk (Patty; ex-Hannah, "AMC"), Eden Riegel (ex-Heather, "Y&R"; ex-Bianca, "AMC"), Billy Miller (Billy; ex-Richie, "AMC"), Jeff Branson (Ronan; ex-Jonathan, "AMC"), Egan (Chelsea ;ex-Annie, "AMC"), Morgan and Williams fresh off their Pine Valley runs.  Fittingly, "Y&R" jumped at the chance to hire "AMC's" long-time casting director, Judy Blye Wilson, this past fall.
There are currently no details available on whom Williams will be playing on "Y&R" or when he will debut in his new role. Stay tuned.