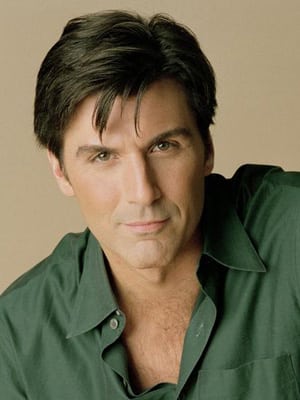 (SoapOperaNetwork.com) — On Monday afternoon, Vincent Irizarry received word of Jamey Giddens' (of Daytime Confidential) rather strong implication on Twitter that [Irizarry's] inability to reach an agreement with production company Prospect Park along with Agnes Nixon and Lorraine Broderick's "story projections" were a major reason Prospect Park decided to reportedly halt early production efforts to move "All My Children" to the internet. The none too pleased Daytime Emmy Award winner responded to the claim on Facebook on Monday evening.
Irizarry was provided with an unexpected birthday surprise on Saturday, November 12 when Giddens revealed that his sources had spilled that "Prospect Park's inability to make a deal [with] Irizarry is a factor in #AMC reboot stalling. Stories were to heavily involve David… [From a branding pt., Susan Lucci was their biggest casting factor, from story it was Irizzary]." When questioned on how that deduction was possible when neither an Executive Producer or Head Writer has been hired for the soap, as opposed to sister soap "One Life to Live," which has signed talent to the aforementioned positions for their 2.0 incarnation as well as thirteen actors, Giddens added "Agnes and Lorraine worked on story projections for the show."
On Monday evening, along with requesting the source of the claim that was stated to him in reduced form, Irizarry responded on his official fan page on Facebook  and emphatically stated that "the part re: me and Lorraine is absolute rubbish. We are certainly not the reason [Prospect Park] has put the show on hold." (Update: 11/16/11) This evening on Twitter, Vincent neither confirmed or denied the accuracy of Giddens sources but did state he felt Giddens comments were "terribly misquoted" to him by the original poster on his Facebook page. The posters original comment stated to Irizarry that it had been "reported that that the show was put on hold…because broderick and vincent cant decide if they want to sign."

It had been revealed as far back as October 6 that Irizarry had finally been contacted by Prospect Park to join "AMC" as it prepared to go online. This discussion had not led to a signing before the reported stall in early production; similar to the results of reported discussions with major "AMC" names including Lucci (ex-Erica Kane), Michael E. Knight (ex-Tad Martin), Rebecca Budig (ex-Greenlee Smythe), Alicia Minshew (ex-Kendall Hart) and Jacob Young (ex-JR Chandler). From the performers they reached out to, Prospect Park has only been able to secure Cameron Mathison (Ryan Lavery), Lindsay Hartley (Cara Castillo) and Darnell Williams (Jesse Hubbard).
Irizarry, who just turned a handsome 52-years old, has enjoyed a long and successful daytime carrer which began on CBS's Guiding Light in 1984 as anti-hero Brandon "Lujack" Luvanoczeck. He played the popular role until 1986. In 1987, the actor joined the cast of Santa Barbara for a two year run as Dr. Scott Clark. Irizarry returned to the soap that put him on the map in 1991 as Nick McHenry Spaulding. He remained on the soap for five more years. Irizarry landed the role of Dr. David Hayward in November 1997 and remained an integral part of the ABC soap through to the end outside of a two year break between his two stints in Pine Valley where he landed on CBS' "The Young and the Restless."